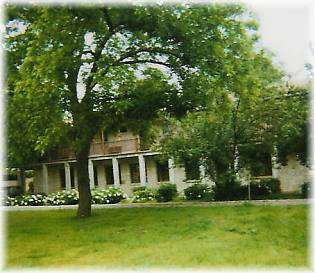 MILLSTREAM RESORT MOTEL, AND CAMPGROUND
401 Mill
Cottonwood Falls, KS 66845
620-273-8114
Fax: 620-273-6613
milldam123@yahoo.com


"5 stars are not enough" expresses the review responses of visitors to Millstream Resort. It's a place to come and relax located in a quiet and safe part of town where you are only a few steps away from your door to the soothing sounds of the Cottonwood River and Falls. The hospitality is more like a bed and breakfast than a motel as the owners bend over backwards to make your stay comfortable.

From the beautifully decorated, theme rooms with one of a kind hand laid floors and unique hand built doors, to the gorgeous yard and landscaping, your stay will be a most comfortable and lasting memory.

The cabin is quaint and very private, and when you come back you'll be calling it "our cabin," because the experience of the sights and sounds become very personal. The campground has accommodations for a single RV with all hookups. Although Direct TV is available in all the units, it is not wired to the RV spots yet.

The owners are eager to recommend the Grand Central Hotel and Restaurant for dinner just minutes away in downtown Cottonwood Falls.
BARON FORK CREEK CAMPGROUND
Hwy 59
Westville, OK 74965
918-778-3543
info@baroncreekcamp.com

ADAMS COUNTY FAIRGROUNDS
947 S. Baltimore
Hastings, NE
(402) 462-3247

CRYSTAL LAKE
S. Hiway 281
1/2 mi. N. of Ayr
Hastings, NE

DLD STATE WAYSIDE AREA
3 miles east of Hastings on Hwy 6
Hastings, NE

HASTINGS CAMPGROUND
302 E. 26th
Hastings, NE
(402) 462-5621

GEORGE H. CLAYTON/ HALL COUNTY PARK
S. HWY 281 AND SHIMMER DRIVE
Grand Island, NE 68801
308-385-5087

CODY PARK
3 mi. North of I-80 on Hwy 83
North Platte, NE

LAKE MALONEY STATE RECREATION AREA
North Platte, NE

NIOBRARA STATE PARK
Niobrara, NE 68760
402-857-3373

VAN'S LAKEVIEW FISHING CAMP
Brule, NE 69127
308-284-4965

RIVERSIDE TRAILER PARK
Brule, NE 69127
308-287-2474

COBB RIDGE
Ava, MO
417-683-4428

HERCULES GLADE WILDERNESS
Ava, MO
573-364-4621

NORTH FORK
Ava, MO
417-683-4428

LOST CABIN CAMPGROUND
Dora, MO
417-261-2259

BIG BAY
Shell Knob, MO
417-847-2144

SCENIC PARK
4th & D Streets
South Sioux City, NE 68776
402-494-7535

COTTONWOOD COVE PARK
14th and Hickory
Dakota City, NE
402-987-3448

CAHAIL'S NIANGUA CANOES
Buffalo, MO
800-53-FLOAT

PRAIRIE STATE PARK
Liberal, MO
417-843-6711

CHRISTENSEN FIELD
1710 W. 16th St.
Fremont, NE 68026
(402) 727-2810

WEST LAKE TRAILER PARK
3 mi. E. on Hwy 30
Fremont, NE 68026
(402) 721-6295

CALVIN CREST CAMP, RETREAT
RR2
Fremont, NE 68025
(402) 628-6455

Y MOTEL CAMPGROUND
N. York, Hwy 81
York, NE 68467
(402) 362-7715

DOUBLE NICKLE CAMPGROUND
I-80 & Exit #360
Waco, NE 68467
(402) 728-5558

H & D CAMPGROUND
Hwy 81
McCool Junction, NE 68467
(402) 724-2151

PRAIRIE OASIS CAMPGROUND
I-80 & Exit #342
Henderson, NE
(402) 723-4310

CITY LOT - ELEC/DUMP
Clay Center, NE 68933

BLUE SPRINGS LAKE CAMPGROUND
Blue Springs, MO 64015
816-795-8200

HEARTLAND PRESBYTERIAN CENTER
Parkville, MO 64152
816-891-1078

OAKWOOD ESTATES
873 E. 420th Rd.
Bolivar, MO 65613
417-326-3279
gedstrom@ipa.net

FT. KEARNY STATE RECREATION AREA
South Hwy 10 & 44
Kearney, NE 68847
308-865-5305

CLYDE & VI'S CAMPGROUND
300 3rd Ave.
Kearney, NE 68847
308-234-1532

LAKESIDE MARINA (CABINS)
Johnson Lake
Lexington, NE 66850
308-785-2590

BIG CREEK CONSERVATION AREA
Kirksville, MO
660-785-2420

MONTGOMERY WOODS CONSERVATION AREA
Kirksville, MO
660-785-2420

SHOEMAKER CONSERVATION AREA
Kirksville, MO
660-785-2420

SUGAR CREEK CONSERVATION AREA
Kirksville, MO
660-785-2420

UNION RIDGE CONSERVATION AREA
Kirksville, MO
660-785-2420

THOMPSON CAMPGROUND
Moberly, MO
660-263-6757

LANE COUNTY FAIR GROUNDS
Dighton, KS 67839
620-397-8628

COTTONWOOD GROVE CAMPGROUND
1-135 & Lincoln Blvd
Hesston, KS 67062
620-327-4173

MAZIE LANDING RESORT
Lake Fort Gibson
Chouteau, OK 74337
918-476-8965

JACK JARO
2162 Native Rd
Fort Scott, KS 66701
620-223-3440

DOUBLE CREEK COVE
1 mile S on US 169, 1 1/2 miles E
Nowata, OK 74048
918-273-3538

WATERCRESS
Winona, MO 65588
573-325-4233

USFS NOBLETT LAKE
Willow Springs, MO 65793
417-469-3155

POSSUM CREEK
Wappapello, MO 63967
573-222-8562

SULPHUR SPRINGS
Wappapello, MO 63967
573-222-8562

GREEN'S CANOE RENTAL
724 W. Hwy 8
Steelville, MO 65565
800-815-6721

AKERS FERRY CANOE RENTAL
HCR 81
Salem, MO 65560
800-333-5628

JADWIN CANOE RENTAL AND CAMPGROUNDS
HC 1
Salem, MO 65560
800-937-4837

LITTLE SCOTIA POND
Salem, MO 65560
573-729-6656

LOGGERS LAKE CAMPGROUND
Salem, MO 65560
573-729-6656

PULLTITE CAMPGROUND - NPS
Route 19 and EE highway
Salem, MO 65560
573-858-3297

SUTTON BLUFF CAMPGROUND
Salem, MO 65560
573-729-6656

WILD RIVER CANOE RENTAL
HCR 62
Salem, MO 65560
573-858-3260

GRAVETTE'S COLONIAL CAMPGROUND
Rolla, MO 65401
573-435-6352

LANE SPRING RECREATION AREA
Rolla, MO 65401
573-364-4621

BERRYMAN TRAIL
Potosi, MO 63664
573-438-5427

BRAZIL CREEK
Potosi, MO 63664
573-438-5427

RED BLUFF
Potosi, MO 63664
573-438-5427

TWIN PINES CAMPGROUND
Mountain View, MO 65548
417-934-2156

BIG PINEY TRAIL CAMP
Licking, MO 65542
417-967-4194

WADES ON THE EDGE
Licking, MO 65542
573-674-4532

BEARCAT'S GETAWAY
Hyatt's Creek Road
Lesterville, MO 63654
573-637-2264


Enjoy camping, floating and live entertainment by the river and under the stars. Home of the Black River Amphitheater, Bearcat's hosts the best in regional and national talent and music festivals throughout the summer season. Float the crystal clear Black river in canoes, rafts or tubes and enjoy all-you-can-eat meals at the Bearcat Bistro. Bearcat's modern bathroom facilities and showers are wheelchair accessible. The general store sells sundries and has a food bar. Catered camping packages and group discounts are available. No quiet hour until 2:00 a.m.
FRANKLIN FLOATS CANOE & KAYAK RENTAL
Lesterville, MO 63654
573-637-2205

JOHNSON'S SHUT-INS STATE PARK
Lesterville, MO 63654
573-546-2450


Over eons of time, the Black River has carved canyon-like gaps, or shut-ins, in some of the state's oldest exposed rock. More than 900 species of plants and wildflowers occur in park. RV sites, tent sites, electricity, swimming, fishing, trails, toilets, shower, store, picnicking and ADA accessible.
Camping $7-$12.
PARKS BLUFF CAMPGROUND
Lesterville, MO 63654
573-637-2290


RV sites, tent sites, electricity, swimming, fishing, trails, toilets, shower, store and ADA accessible.
RIVERSEDGE CAMPGROUND
Lesterville, MO 63654
573-637-2422


RV sites, tent sites, electricity, swimming, fishing, trails, toilets, shower, playground, store and ADA accessible.
TWIN RIVERS LANDING
Lesterville, MO 63654
573-637-2274


RV sites, tent sites, electricity, swimming, fishing, toilets, shower, playground, store and ADA accessible.
TAUM SAUK MOUNTAIN STATE PARK
Ironton, MO 63650
573-546-2450

PADDY CREEK RECREATION AREA
Houston, MO 65483
573-364-4621

GREENVILLE CAMPGROUND
U.S. Highway 67
Greenville, MO 63944
573-224-3884

ALLEY SPRING CAMPGROUND
Rt 3
Eminence, MO 65466
573-226-3316

ARROWHEAD CAMPGROUND
HCR 2
Eminence, MO 65466
573-226-5250

DISCOVERY MINISTRIES CAMP
HC 3
Eminence, MO 65466
573-226-3213

HARVEY'S CIRCLE B CAMPGROUND
Eminence, MO 65466
573-226-3618

JACKS FORK CAMPGROUND AND CANOE RENTAL
Hwy 106 E.
Eminence, MO 65466
800-522-5736

ROUND SPRING CAMPGROUND - NPS
Route 1
Eminence, MO 65466
573-858-3297

PINEWOODS LAKE
Highway 60
Ellsinore, MO 63937
573-785-1475

WEBB CREEK RECREATION PARK
H Highway
Piedmont, MO 63957
573-223-7777

WILDERNESS RIDGE RESORT
33850 Windsor Lane
Duke, MO 65461
573-435-6767

RICH'S LAST RESORT
33401 Windsor Lane
Duke, MO 65461
573-435-6669

DEER LEAP
Doniphan, MO 63935
573-996-2153

FLOAT CAMP
Doniphan, MO 63935
573-996-2153

ROCKY RIVER RESORT
Doniphan, MO 63935
800-748-7672

CLOUD 9 RANCH CLUB
Caulfield, MO 65626
417-284-7321

PETIT CANOE RENTAL
Caulfield, MO 65626
417-284-3290

RIVERSIDE CANOE RENTAL
Caulfield, MO 65626
417-284-3043

SUNBURST RANCH
Caulfield, MO 65626
417-284-3443

HIGHWAY K PARK
Annapolis, MO 63620
573-223-7777

RICHARD'S CAMPING
Alton, MO 65606
417-778-6186

CANTON RIVERFRONT PARK
Canton, MO 63435
573-288-4412

BAYVIEW CAMPERS PARK
Hannibal, MO 63401
573-221-6589

INJUN JOE CAMPGROUND
Hannibal, MO 63401
573-985-3581

NEW LIFE CAMPGROUND
Kahoka
Kahoka, MO 63445
660-727-3769

WAKONDA STATE PARK
La Grange, MO 63448
573-655-2280

CANNON COUNTRY
Monroe City, MO 63456
573-735-4146

FRANK RUSSELL CAMPGROUND - (U.S.A.C.E.)
Monroe City, MO 63456
573-735-4097

INDIAN CREEK CAMPGROUND - (U.S.A.C.E.)
Monroe City, MO 63456
573-735-4097

GRAHAM CAVE STATE PARK
Montgomery City, MO 63361
573-564-3476

LAZYDAY CAMPGROUND
214 Hwy J
Montgomery City, MO 63361
800-600-3340

RAY BEHRENS CAMPGROUND - (U.S.A.C.E.)
Perry, MO 63462
573-735-4097

RUSTIC OAK CAMPGROUND
Perry, MO 63462
573-565-2040

THE WINDMILL RESORT
33970 Rt. U
Stoutsville, MO 65283
573-672-3271

WASHINGTON STATE PARK
Route 2
DeSoto, MO 63020
636-586-5768

TIMBERLAKE MARINA
Elsberry, MO 63343
573-898-2077

YOGI BEAR'S JELLYSTONE PARK RESORT & CAMPGROUND AT SIX FLAGS
Eureka, MO 63025
800-861-3020

JONESBURG CAMPGROUND
Jonesburg, MO 63351
636-488-5630

ROBERTSVILLE STATE PARK
Robertsville, MO 63072
636-257-3788

MERAMEC CAVERNS
Stanton, MO 63079
573-468-3166

STANTON/MERAMEC KOA
Stanton, MO 63079
888-562-4498

ARAPAHO CAMPGROUND
351 Arapaho Drive
Sullivan, MO 63080
573-468-3218
888-53-FLOAT

MERAMEC STATE PARK
115 Meramec Park Drive
Sullivan, MO 63080
573-468-6072

NATIVE EXPERIENCE SULLIVAN/MERAMEC BASE CAMP
Sullivan, MO 63080
573-468-8750

CUIVRE RIVER STATE PARK
678 State Route 147
Troy, MO 63379
636-528-7247

DR. EDMUND A. BABLER MEMORIAL STATE PARK
800 Guy Park Drive
Wildwood, MO 63005
636-458-3813

ST. FRANCOIS STATE PARK
8920 U.S. Highway 67 North
Bonne Terre, MO 63628
573-358-2173

CHEROKEE LANDING
8344 Berry Rd.
Bonne Terre, MO 63628
877-424-3765

THE LITTLE OLE OPRY CAMPGROUND
4036 State Hwy 34
Burfordville, MO 63739
573-243-4555

THE LITTLE LOG CABIN
Commerce, MO 63742
573-264-3712

MARBLE CREEK
Fredericktown, MO 63645
573-783-7225


Tent sites, trails, and toilets.
SILVER MINE
Fredericktown, MO 63645
573-438-5427


Tent sites, trails, toilets, and ADA accessible.
TWIN BRIDGE PARK
Glenallen, MO 63751
573-495-2581

CHEROKEE HILLS CAMPGROUND
2112 County Road 607
Jackson, MO 63755
573-204-7910

TRAIL OF TEARS STATE PARK
429 Moccasin Springs
Jackson, MO 63755
573-334-1711

CASTOR RIVER PARK AND CAMPGROUND
Marble Hill, MO 63764
573-495-2485

WHIPPOORWILL LAKE CAMPGROUND
Marble Hill, MO 63764
573-238-3995

TRAIL'S END RANCH
Marquand, MO 63655
573-783-2948

VALLEY OF THE DOLLS CAMPING & TRAIL RIDING
Marquand, MO 63655
573-783-6823

ST. JOE STATE PARK
2800 Pimville Rd.
Park Hills, MO 63601
573-431-1069

PERRYVILLE KOA
89 KOA Lane
Perryville, MO 63775
800-562-5304

HAYTI-PORTAGEVILLE KOA
Portageville, MO 63873
573-359-1580

HAWN STATE PARK
12096 Park Drive
Ste. Genevieve, MO 63670
573-883-3603

COTTONWOOD CAMPING RV PARK & CAMPGROUND
115 S. 130th St.
Bonner Springs, KS 66012
913-422-8038

BLACK CANYON CITY CAMPGROUNDS
Black Canyon City, AZ
406-248-7444
Fax: 406-248-7444

HOMOLOVI RUINS STATE PARK
I-40, Exit 257
Winslow, AZ 86047
928-289-3138

NORTHERN FARMS 4 ACES CAMPGROUNDS
1004 S. Massachusetts
Kinsley, KS 67547
620-659-3224

B-10 CAMPGROUND
Quartzsite, AZ 85346
928-927-4393

RICE RANCH
50 E. Kuehn St.
Quartzsite, AZ 85346
928-927-5229
info@riceranch.biz

POINT OF ROCKS CAMPGROUND
3025 N Hwy 89
Prescott, AZ 86301
928-445-9018

PAYSON CAMPGROUND AND RV RESORT
808 East Highway 260
Payson, AZ 85541
928-472-2267

PAGE/LAKE POWELL
849 Coppermine Rd.
Page, AZ 86040
928-645-3374
camp@killer.baits.com

WAHWEAP TRAILER VILLAGE
100 Lake Shore Dr.
Page, AZ 86040
928-645-1004
lakepowell@aramark.com

SNIDER'S CAMP
62600 E. 320 Rd
Grove, OK 74345
918-787-7760
janajae@janajae.com

HIGH PLAINS CAMPING
462 US Hwy 83
I-70 and US-83
Oakley, KS 67748
888-446-3507
785-672-3538
Fax: 785-672-3092
office@highplainscamping.com

SYCAMORE SPRINGS RESORT
3126 Bittersweet Rd
Sabetha, KS 66534
785-284-3088
ssresort@ssresort.com

BLUFF CREEK FALLS CAMPGROUND
1125 Loop Rd
Steele, AL
256 538 0678
bluffcreekfalls@gmail.com


Whether you're looking for relaxation & tranquility or excitement & fun you'll find it at Bluff Creek Falls! For campers & non-campers, this totally clothing optional campground/community is for men, 21+, members only
FOUR SEASONS RV ACRES
2502 Mink Road
Abilene, KS 67410
800-658-4667
785-598-2221
www.4seasonsrv.com

LAKE PINE RETREAT CAMPGROUND
RR 4 Box 36
Broken Bow, OK 74728
580-494-6464

MT RUSHMORE KOA CAMPGROUND
12620 Highway 244
Hill City, SD 57745
605-574-2525

ANTIQUE ACRES CAMPGROUNDS
7610 Waverly Rd.
Cedar Falls, IA 50613
319-987-2380
general@antiqueacres.org


Antique Acres, Founded in 1964, Antique Acres is best known for its yearly Old Time Power Show in August, which is dedicated to the preservation and operation of antique machinery. Here you will find exhibitors displaying collections of farming equipment of all kinds, jelly being made on an old fashioned wood stove, or butter being churned. A "Parade of Power" from antique garden tractors to powerful steam engines, which put on a beautiful light show after dark, is only one of the 3-day show events.

A museum at the Acres houses many old time and valuable pieces which can also be viewed during one of the many tours conducted for out-of-town groups, schools or just someone stopping by.

A campground with shelter and stage are also available as well as an air-conditioned hall with kitchen facilities to meet your needs.
Fee: $15.00 with elec. and $10.00 without.

ODETAH CAMPING RESORT
38 Bozrah St. Ext.
Bozrah, CT 06334
860-889-4144
Fax: 860-889-2492


350 sites, cabin rentals Yurt rentals. May 1-Oct. 31.
STATELINE CAMPRESORT & CABINS
1639 Hartford Pike
East Killingly, CT 06243
860-774-3016
Fax: 860-774-6470
camplands@aol.com


230 site camp resort with private lake, clubhouse, swimming pool, rental boats and Cabins.
PINEYWOODS CAMPGROUND
2845 State Route 50
Owensville, OH
513-519-0614
cartplus@fuse.net


We are two miles east of Owensville, Ohio at 2845 State Route 50 at the Jackson Township line( look for the township sign), full hook ups, about 12 miles to the Clermont County Fair Grounds.
Fee: $25 a night with full hook ups
WHISPERING PINES CAMPGROUND
Hope Valley, RI
401-539-7011
wpinesri@aol.com


Nestled in 50 acres of towering pines...Lots of amenities...Lots of activities.
ACORN CAMPGROUND
419 Route 47 S
Wildwood, NJ 08260
609 886-7119
Fax: 609 889-8228
info@acorncampground.com

LOCK 30 WOODLANDS RV RESORT CAMPGROUND
45529 Middle Beaver Rd
Lisbon, OH 44432
330-424-9197
kbanesi@core.com


Lock 30 Woodlands RV Resort Campground, Ohio's best value, and the highest-rated family campground in the tri-state area of Ohio, Pennsylvania and West Virginia is Ohio's exclusive Best Parks in America affiliate. This big-rig friendly park has full hook up sites with free wifi, swimming pool, river front camping, cabins, furnished cottages, and a clubhouse with game room and laundry. Campground is open year-round. Secluded, forested "glamping" in the woods with lake and river fishing and plenty of large, private tent sites. Scheduled children's activities, parties, picnics, retreats and family reunions in rental pavilion. Bike trails and recreation rentals available for groups, picnics or day camping. Camp for one night, one week or a full season in safe, wide, level FHU sites with lots of trees. Pet- friendly with off leash dog park on scenic riverfront. This 68 acre professionally managed, destination playground is a haven for bird watching, wildlife viewing and hiking near Beaver Creek State Park, yet minutes away from historic museums, shopping and casinos. One hour from Pittsburgh, two hours from Cleveland, south of Youngstown, north of East Liverpool. Ask about midweek and shoulder season discounts to church groups and "green camping" family conservationists.
BATTLEFIELD CAMPGROUNDS
4407 I-20 Frontage Road
Vicksburg, MS 39183
(601)636-2025

HOT SPRINGS KOA
27585 SD Hwy 79
Hot Springs, SD 57501
800-KOA-0803
kampkoa@gwtc.net


Nestled in the beautiful southern Black Hills near Wind Cave National Park, Custer State Park, Mammoth site, Evans Plundge and the Wild Horse Sanctuary.

76 sites including 10 Kamping Kabins. Amentities include heated pool, mini golf, basketball, volleyball, horseshoes, playground,rec room, camp store, pavillion, propane, pancake breakfasts.
BUTLER MOHICAN KOA
6918 Bunker Hill Road South
Butler, OH 44822
419-883-3314
camp@butlermohicankoa.com


Our family friendly campground, clean facilities and caring staff are sure to make your stay enjoyable, relaxing and memorable. Only minutes away from Mohican State Park, we want you to enjoy not only our campground but all that comes with a stay in the Mohican area.

-Camp Store with full line of groceries
-Heated pool and water slide
-30 & 50 amp electric and water hookup
-30 & 50 amp full hookup
-Mini golf and game room
-Playground and fishing lake
-Hiking trails
-11 cabins, 20 tent campsites, 60 RV/Camper sites and 2 Group sites

HEMLOCK HILL CAMP RESORT
118 Hemlock Hill Road
Litchfield, CT 06759
860-567-2267
info@hemlockhillcamp.com


Just 5 miles from historic Litchfield center, Hemlock Hill Camp Resort affords you a true camping experience. Facilities include: Brand New handicap access restroom and showers, fully stocked store, arcade game room, two sparking swimming pools, adult hot tub, pavilion, and nature ponds. Hemlock Hill is centrally located to Lake Compounce, Quassy Amusement Park and CoCo Key Indoor Water Park. There are many hiking, biking and kayaking areas to explore nearby, including in White Memorial, Topsmead, Mt Tom and Mohawk State Forest. Free Wi-Fi.
DAYTONA BEACH KOA
3520 South Nova Road
Port Orange, FL 32129
800-562-5856
Fax: 386-767-9866
info@daytonabeachkoa.com


This new KOA is right in the middle of everything you want to do in Florida. It's just 10 minutes from the Daytona Speedway and Daytona Beach, known as the "World's Most Famous Beach." Orlando, Walt Disney World (with MGM Studios) and Universal Studios are a little more than an hour's drive away, as is the Kennedy Space Center. The Daytona Beach KOA can be your base camp for Speed Week in February, Bike Week and the Speedway Spring Car Show in March, the July NASCAR race, Biketoberfest in October and the Turkey Rod Run in November. You'll also find world-class sport fishing and a casino cruise ship just 30 minutes away. And it's only 10 minutes to the world's largest flea market. The campground has plenty of room with 350 sites, as well as a large recreation hall for group events, a great pool, a playground and RV storage.
$25-$100
PARRISH RANCH RV AND RESORTS
Parrish Rd.
Berthoud, CO 80513
303-772-5118
stephanieco29@yahoo.com


Working cattle ranch nestled in the Foothills of Colorado. Campground is in the valley. Little Thompson river (stream) runs through it. 1500 acres to play on. Electric/water hook-ups available. Horses, cows, peacocks, wild turkeys are readily viewed, fed, and played with. Deer, raccoons, mountain critters, seen if you're lucky. Very quiet, very secluded. HOT showers available. Group facilities if needed.
Fee: $75 week RV, $30 week tent, $45 week-end furnished Indian TeePee
COUNTRY CAMPGROUND
13639 260th Ave
Detroit Lakes, MN 56501
218-847-9621
ccdlmn@lakesnet.net


We are a family style campground featuring 30 full service 40'x60' sites. Each site includes picnic table, fire ring, water, sewer, electricity & free Wi-Fi. We have a Recreation Hall with free pool, foosball, ping pong, kitchenette area for potlucks, exercise room, and restrooms with showers. Our office building has a small store, free coffee, restrooms with showers, firewood & laundry mat. Outdoors features putting golf, volleyball 2 large playgrounds, basketball, horseshoes, swings & paddleboats. Within a few miles is the mile long beach, fishing, golf, amusement park & hiking.
We welcome you & your family to enjoy a fun time at our campground.
TWIN PINE CAMPS
Millinocket Lk
Millinocket, ME 04462
(207)723-5523

LAKE PARK CAMPGROUND & COTTAGES
2850 Chapel Lane Ofc
Rapid City, SD 57702
(605)341-5320
campnelson@lakeparkcampground.com

BEAVER COVE CAMPS
Black Point Road
Greenville, ME 04441
207-695-3717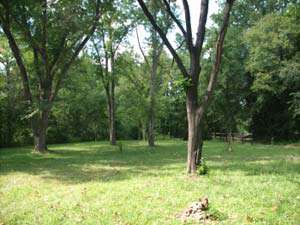 ARDPARK CABINS
Highways 8 and Y
Steelville, MO 65565
1-866-914-4702
tandc@ardpark.com


Picture yourself on a beautifully tree lined private fenced acre with 200 feet of Courtois Creek frontage and your very own gravel bar! Amenities on site include a small shed filled with lawn chairs, a portable charcoal BBQ grill, inner tubes, blow up rafts, a croquet game and more! You are guaranteed a personal experience where no one will interrupt your good time. Whether it's a trip for 2 or 20, ArdPark's Courtois Cabana is sure to please!
GREEN ACRES CAMPING
Nelma, WI
paulbarbpaba@yahoo.com


Camping, fishing, canoeing, atv trails, bar/cafe right next door great broasted chicken, burgers, a little something for everyone.
PERSIMMON CREEK CAMPGROUND
200 Sunny Point Rd.
Murphy, NC 28906
828-644-5800
karen@persimmoncreekcampground.com


Small, private campground 13 miles from the Ocoee River in TN. Tenting along a beautiful trout stream, full hook-up sites overlooking the stocked pond. Close to Cherohala Skyway and Tail of the Dragon. Dogs/motorcycles welcome.

Hwy 64 12 miles west of Murphy, turn right on Sunny Point Rd. First drive on the right. Hwy. 64 10 miles east of Ducktown, turn left on Sunny Point,
HIDDEN COVE CAMPGROUND
115 Sinjcon LN
Dandridge, TN 37725
865-397-5002
flytoy007@hughes.net


Hidden Cove Campground now have large wooded RV lots for rent monthly starting at $150.00. Hidden Cove features wireless internet , city water , electric , sewer and all protected by a coded security gate for privet country camping experience . Fishing boating and swiming in a deep water shaded cove.
865-397-5002
865-388-1841
flytoy007@hughes.net

115 Sinjcon LN (google map) (yahoo map)
RODANTHE WATERSPORTS AND CAMPGROUND
24170 Hwy 12
Rodanthe, NC 27968
252-987-1431
mnjbigney@hotmail.com


Small, friendly waterfront campground. Offer affordable rates, pets allowed, hot showers, and pit fires. Enjoy wonderful sunsets and the beauty of the water right from your site.
LAKERIDGE CAMPING & BOATING RESORT
30547 Sunnyslope Rd.
Sanger, CA 93657
559-787-2260
lakeridgecampground@gmail.com


Extended stay and overnight camping for RV's and Tents. Conveniently located near Pine Flat Lake, Kings Canyon National Park and Yosemite National Park.
FRONTIER RESORT
5 1/2 mile south on hwy 83
North Platte, NE 69101
308-532-8776
bobjon6@msn.com


Full hook-ups on beautiful Lake Maloney. 5 @ 1/2 mile south on hwy 83 boat ramp, cafe and boat gas
Fee: $20.00/day

MORNING STAR CAMPGROUND
Riverdale, ND 58565
701-654-7636

PINE HAVEN CAMPGROUND
Rt 25
Wentworth, NH 03282
603 786 2900
info@pinehavencampground.com


Pine Haven Campground is located along the South Branch of the Baker River in New Hampshire's White Mountains. We offer all types of camping from secluded riverfront tent sites to full hookups including water/electric/sewer/and cable TV. Enjoy a swim in our heated pool, join one of our many activities, hike, bike, or try some antiquing. New Hampshire has lots to offer and our campground is centrally located. Use us as your base while you explore the many regions of New Hampshire. Fee: $31.00 to $40.00 per night per family
BETHEL WOODS CAMPGROUND
245 Route 3
Holderness, NH 03245
603-279-6266
camp@bethelwoods.com


Bethelwoods Campground is centrally located in the heart of the New Hampshire Lakes Region on U.S. Route 3 in Holderness, NH close to both Lake Winnipesaukee and Squam Lake (where "On Golden Pond" was filmed).

Bethelwoods Campground offers family camping in a natural wooded setting. Our amenities include a campground store with groceries, RV supplies, and propane; recreation hall and arcade; modern restrooms with hot showers, laundry facility, free wi-fi hot spot, pool, and playground.

Families can get away from it all and relax by a campfire or spend time enjoying all the Lakes Region has to offer with fishing, boating, and hiking available nearby. We are also a short driving distance from the White Mountains.

As the campground is adjacent to The Inn at Bethel Woods, you can easily visit with friends in their RV's who are staying on the Bethel Woods grounds. This is a great way to share a family camping vacation, while enjoying the comforts of the Inn. We offer a range of pricing and packages to meet your vacation needs.
ROCK PORT RIVERSEDGE CAMPGROUND
1409 Hwy 136 W
Rock Port, MO 64482
660-744-2662
Fax: 660-744-2662
riversedge@campingyourway.net


This very camper friendly park is located in the far northwest corner of Mo. with easy on/off ramps from hwy 29 , fuel & food is also available at this exit.
We offer long level/full service pull thru sites that can accomadate the BIG rigs in comfort...our driveways are wide for easy turning & the trees are all highly trimmed as to avoid touching you roofs. Our cabin & tent sites with electric are located close to the bath house. Fires pits & picinic tables are available at each site, there is a general store for those little things you may have forgotten or ran out of, fire wood & propane are also available. Our swimming pool is open from mid May til mid Sept.,we have a playground for the young & young at heart...the park offers a quiet restful atmosphere to walk, visit or just relax. We have just resently purchased this little bit of heaven as our retirement adventure...looking forward to meeting you and hope you feel at home while you are here. John & Edna
CAMELOT RV CAMPGROUND
4728 Hwy 67 N
Poplar Bluff, MO 63901
573-785-1016
camelotrv@hotmail.com


Open All Year. Beautiful Ozark area with forested hills. We have 76 Full Hookup sites with water, sewer, electric 30/50 amp, Cable TV 61+ channels, WiFi at site, level sites with room for your slideouts and tows, laundry, propane, pavilion, food and car rental deliver to your site. Daily, weekly, monthly rates with many discounts offered. Visit our website for more information and photos. www.camelotrvcampground.com
COVERED WAGON CAMPGROUND
803 S Buckeye Avenue
Abilene, KS 67410
785-263-2343
800-864-4053
www.coveredwagonrvpark.com

OLSTAD CAMPGROUND
129 3rd ST SW
Mayville, ND 58257
701-786-3990
dakota200@midco.net


Campground: 10 Camping Sites, City-Water, Sewer, 30 Amp Service, Shady Trees, Nice Lawn Area, Down-Town Mayville ND, Hwy-200 Frontage, Easy IN--OUT, Walking Distance PIZZA-&-BAR, MINORS Entrance, Back-IN 40 Ft. Rigs,
Reservations Via E-Mail Or PHONE.
OPEN May 1 Thru Oct 1

City Park 1/4 Mile, Golf Course 3/4 Mile, Hospital 1/2 Mile, Plumbing Bus, Next Door For -HELP-, Electrican Avail. For -HELP-.
================================================
Directions : WEST-BOUND Hwy-200,(City-Center) Cross R.R. TRACKS, Go West 1/4 Mile, -STOP- SEE LandMark JET-PLANE on Pole, Campground Is SOUTH-SIDE of Hwy-200,
Directions :East-Bound From PORTLAND ND, Cross GOOSE River, See PIZZA-&-BAR, Go 1/4 Mile -STOP- SEE JET-PLANE On Pole, Campground Is SOUTH-SIDE of Hwy-200.
SCENIC RIDGE COUNTRY CAMPGROUND
3458 Zion Hill Road
Cherryville, NC 28021
704-435-0938
scenicridgecampground@yahoo.com


We offer a sandy creek, playground, mini golf and a beautiful view. Take your shoes off, sit and relax, let the kids play and enjoy nature the way it is intended to be enjoyed! We have over 60 sites, that include water and electric, some of which includes septic. We cater to campers and those of you who love to tent camp. So come and enjoy the outdoors, close at home or planning a trip away, you are sure to have a wonderful experience! We have many shady places for your getaway. We also offer cabin rentals. Check out our website for more details.
Fee: 25.00 nightly
STURGIS CAMPGROUNDS
13121 Lincoln Tarken Ln
Piedmont, SD 57769
605-393-7340
jordansmith306@yahoo.com


At just 10 miles from the heart of Sturgis, South Dakota, the After the Ride Campground is convenient to every place you want to visit around the Sturgis Motorcycle Rally. The Campground is in a mountain meadow that you will have to see to believe. Come camp with us and enjoy the Sturgis Motorcycle Rally!
HAROLD'S CAMPGROUND
195 White Lake Dr.
White Lake, NC 28337
910-862-3692

MOUNTAIN PINE'S RIVER'S EDGE CAMPGROUND
2759 River's Edge Campground
Rumney, NH 03266
603-391-2521
samax444@aol.com


Beautiful quiet, clean camping on the Baker River. Canoe or Kayak to your camp site. Hike, bike, swim or float down the Baker River. Movies on Friday and Saturday nights on movie screen outside 10' x 14'. Views of Rattle Snake Mtn. from some camp sites. Rock climb Rattle Snake Mountain. Electric and water at some sites. Dogs that are friendly and quiet are always welcomed. Group sites and pricing available call Lisa for more information.

93 North to Exit 26 to Route 25 5 miles on right
RED RIVER TROUT DOCK & CAMPGROUNDS
285 Ferguson Road
Heber Springs, AR 72543
(501)362-2197

BAYVIEW CAMPGROUND AND COTTAGES
11104 North Shore Dr
Hillsboro, OH 45133
937-393-3119
Fax: 937-393-3119
bayview@rockyforkparks.com


Bayview Campground & Cottages is in the perfect setting for outdoor enthusiasts and vacationers. Surrounded by the area's best outdoor entertainment, Bayview is in walking distance of the boat launch, marina, and beach. The serenity of Bayview will give you that comforting "home away from home" feeling. With a welcoming crew fully focused on you, our small, family-oriented campground boasts personality, privacy and flexibility. Fishing tournaments, hunting parties, family reunions, outdoor weddings, whatever your event, Bayview will cater to your needs. Reserve the whole campground if you want. Talk to our staff about making your lake event one to remember. Bayview Campground is surrounded by trees and premium sites have a water view. It highlights a new heated shower house with handicap accessibility, laundry facility and free WI-FI for campers. Most of the campsites are full hook-up with 30 and 50 amp electrical service and frost-free water hydrants. Rental campers are available as well. From tents to the largest RV, Bayview has a site for everyone. And remember, we're open year-round. Or consider upgrading to luxury accommodations overlooking the lake in the new Bayview Cottages. Each sophisticated cottage is furnished for your leisure comfort with fully equipped upscale kitchens, pillow top mattresses, bed and bath linens, central air and heating, free WI-FI and modern stereo systems with digital media input. We even provide the coffee! Our one bedroom cottages rival the best hotel suites, but we have the advantage of campfire rings and picnic tables. The Bayview Outpost carries a selection of outdoor equipment specializing in fishing and hunting. Live bait, a large collection of tackle and poles, bow and gun supplies, ammunition, licenses, camping supplies, marine merchandise, clothing, gift novelties, snacks, ice cream, soda, beer, and more are all available sunrise to sunset. Bayview Campground & Cottages and The Bayview Outpost are open year-round, 7 days a week. Our friendly staff are on site 24/7. With adjustable check-in and check-out times and a personal touch, Bayview can be your ideal getaway. Bayview. Everything you need for a great day at the lake!
ACORN ACRES
135 Lake Rd.
Bozrah, CT 06334
860-859-1020


225 sites.
May 1-Columbus Day.
STONY RIDGE KOA CAMPGROUND
24787 Luckey Rd
Perrysburg, OH 43551
419-837-6848
srkoa@aol.com


A quiet, pretty, clean campground. Heated pool Memorial Day to Labor Day. Open Mar 15 to Oct 31. Mini-golf($), Bike rental ($), free hayrides, horseshoes, shuffleboard, and cornhole lawn games. Camp store, propane, 24 hr laundry.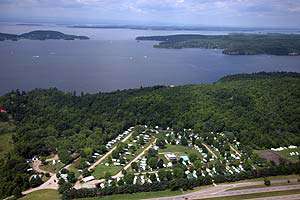 LONE PINE CAMPSITES
52 Sunset View Road
Colchester, VT 05446
802-878-5447
Fax: 802-865-7925
bradd@appletreebay.com


Vermont's Favorite Family Campground. Highest rated local campground. 265 campsites, 2 swimming pools, 4 tennis courts, miniature golf, shuffle board, general store, laundry, grassy campsites, paved roads, wifi available.
I-89 exit 16, rte. 7 north 3 miles, left on Bay Rd., 1 mile west on Bay Rd.
EAGLE MOUNTAIN RESORT & CONFERENCE CENTER
121410 S. 4170 Rd.
Eufaula, OK 74432
918-689-7777
Fax: 918-689-7377
eaglemtnrst@yahoo.com


Whether you are planning a family reunion, sports or youth camp or just need a personal weekend away, we want you to make Eagle Mt. Resort Campground & Conference Center your vacation destination. Open year round, Eagle Mountain is situated less than 1 mile from the beautiful shores of Lake Eufaula. Eagle Mountain has all the amenities you and your group could possible want or need. Swimming pool, Basketball Courts, Tennis Court, Archery, Health Center (under Construction), Coffee shop, Business Center, Clubhouse w/Kitchen & Dinning Facilities, Game room, Nature Trails, nearby boat dock, and the list goes on. Eagle Mtn. is just around the corner from Eufaula's unique downtown shopping areas where you can find gifts, clothing, specialty items, souvenirs, etc...and also be able to enjoy a variety of restaurants in town and on the lake.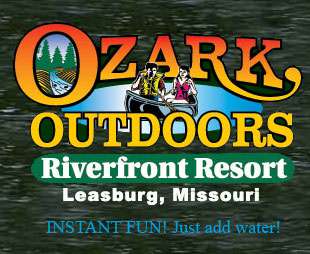 OZARK OUTDOORS RIVERFRONT RESORT
200 Ozark Outdoor Lane
Leasburg, MO 65535
800-888-0023
Fax: 573-259-6839
goodtimes.ozarkoutdoors@gmail.com


Instant Fun - Just Add Water!!!

Open year round, our scenic rural setting is surrounded by the Huzzah Wildlife Area on the banks of the Meramec River, and near Onondaga Cave State Park. Only 1 ½ hours from St. Louis and 2 hours from Branson; Ozark Outdoors Riverfront Resort is in the heart of Missouri's Ozarks.

You can float the 4-10 miles on the Courtois, Huzzah, or Meramec rivers in canoes, rafts, or kayaks. If you prefer a shorter trip, try our world famous Tube Loop which floats lazily along our 1 ½ miles of riverfront property. Our fun, open air shuttle bus will take you back to the start where you can decide to go again or just relax and enjoy the outdoor experience.

If you are looking for adventure, fun, rest, or a place to recharge your mind, come spend some time with us. We have primitive and RV campsites, cabins, motels, banquet/meeting rooms, and even a condominium. Other amenities include an outdoor swimming pool, playground equipment, three shower houses, and The Paddler's Grill for weekend visits.

We offer romantic getaways, family reunions, church gatherings, weddings, teambuilding events, and corporate retreats. Everything you need to get work done, or get away from work is waiting for you at Ozark Outdoors. Bring your pet, (on a leash please), so the whole family can share in the memories. Hope to see you soon!

RIVERSIDE RV CAMP & STORAGE
Ashland, NE RV Ca
402-201-4888
bblessie@cox.net


RV Camp & Storage facility for RV's and Boats
ALDERWOOD EVENT CAMPGROUND, LLC
351 Granny She Run Rd.
Chloe, WV 25235
304-655-7367
alderwoodretreat@yahoo.com


Check our Website for our current schedule!!! Lots of Jam shows planned for this season!

Alderwood Event Campground is a primitive-camping event site, or 'Camphitheatre', almost exactly 50 miles north-east of Charleston, WV.

Calhoun County's Newest Attraction is now open and available for booking concerts, festivals, family reunions, weddings, corporate retreats, and private hunting season reservations (we have to keep 'em thinned here, or the deer will starve because there are too many).

Inspired by other campgrounds we've been blessed to attend events at, our dream has been to create a similar oasis in our little part of the world here in the beautiful Appalachian mountains of Chloe, WV.

Alderwood is situated on 111 acres and has:
- a 16'x32' Stage (half is hard-covered) with 185 amps of power
- a Concession booth-ready area with power
- Upper, Lower, and Inner parking areas
- 12 new Porta-Johns
- a pond that you cannot go in (sorry, the fish wouldn't like that), and walking trails
- an enormous, specially prepared, Stone Bonfire Pit, with surrounding Dance Circle
- Lecture & Workshop-specific areas
- Unique Camping areas with a sleeping capacity of 600
- Vendor-specific spaces
- and a Concert-area capacity of 1200

Alderwood was designed, primarily, to accommodate music, dance and hand drumming-type gatherings, as well as small Renaissance-type festivals, primitive corporate campouts, family reunions and weddings.

Bookings are limited.

Contact:
Mark Edwards, Manager
Alderwood Event Campground, LLC
351 Granny She Run Rd.
Chloe, WV 25235
304-655-7367
MEDAWISLA WILDERNESS CAMPS
Greenville, ME
207-695-2690

LITTLE LYFORD POND CAMPS
Greenville, ME
207-280-0016
lodging@outdoors.org

LAKE CHELAN STATE PARK
Chelan, WA
360-902-8844

CANYON RIMS RECREATION AREA
Monticello, UT
435-259-2100

CHELEY COLORADO CAMPS
Estes Park, CO
1-800-CAMP FUN
office@cheley.com

STRICKLAND'S CAMPGROUNDS
Mentone, Al 35968
256-634-4346

PONDEROSA CAMPGROUND
1305 Ponderosa Road
Pineville, MO 64856
417-223-4081
ponderosacampground@yahoo.com


Ponderosa Campground is an quiet beautiful campground & event center. Bring your equine and ride the Huckleberry Ridge Trails.

Ponderosa Campground does not have animals to rent. You must bring your own equines.

Ponderosa Horse Camp grounds are available for large group camping and trail riding, overnight stabling, historical reenactments, horse shows, clinics, day rides and youth events.

M - F 9 a.m. - 6 p.m. S & S 9 a.m. - 6 p.m.

US 71 to Noel/Pineville Exit at Hwy H. Turn L on Hwy H Turn R @ stop sign at B 71. The first L on 71B is HwyK Turn left then take first rd to R
CHOUTEAU BEND RECREATION AREA
633 W. Hwy. 412
Chouteau, OK 74337
(918) 476-6422
seximom2b@gmail.com


We have 3 boat ramps lots of camping space for R.V.'s, tents, or full time mobile homes. We offer a seasonal grocery/bait store equipped with tackle and snacks. We also have boat slips available.
Open April to October. From 8am-5pm everyday but Monday.
3.5 miles E. of Chouteau on Hwy. 412
GENTRY CREEK
Checotah, OK
918-799-5843


Small park on the North end of Lake Eufaula nice place to go. Highway 266 9 miles W of Checotah, OK. Fee: 10.00 +.
DAYTONA SPEEDWAY KOA
3003 W. International Speedway Blvd
Daytona Beach, FL 32124
800-562-5412
Fax: 386-255-0772
info@daytonaspeedwaykoa.com


This is as close as you'll get if your ultimate destination is the Daytona International Speedway or Daytona Beach, known as the "World's Most Famous Beach." And it's the perfect base camp for the rest of central Florida. You're just an hour away from Orlando. Walt Disney World (with MGM Studios) and Universal Studios are a little more than an hour's drive away, as is the Kennedy Space Center. This KOA can be your base camp for Speed Week in February, Bike Week and the Speedway Spring Car Show in March, the July NASCAR race, Biketoberfest in October and the Turkey Rod Run in November. Just minutes away, you'll find world-class sport fishing and a casino cruise ship. And it's only seconds to the world's largest flea market.
$25- $100.00
BIG TIMBER LAKE CAMPING RESORT
116 Swainton-Goshen Road / P.O. Box 366
Cape May Court House, NJ 08210
800-542-2267
Fax: 609-465-7468
camp@bigtimberlake.com


Your ticket to the finest in resort family camping is waiting ... at one of the East Coast's great vacationlands in the heart of the Jersey Cape. At Big Timber Lake, you'll find all the wonders of life in the wilderness, all the conveniences of a modern campground, and all the fun of fabulous recreational facilities. All in all, you'll find the finest family camping resort you've ever seen!

Fee: $43.50 to $60.00 per night
THE CAMPS @ FAYETTE STATION
Fayette Station Road
Fayetteville, WV 25840
304-640-3705
campsatfayettestation@verizon.net


Conveniently located on Fayette Station Road less than one (1) mile from historic downtown Fayettevile, WV! We are a full servce campground that offers rustic campsites, rustic cabins with power, and RV sites with electric, water, and sewer. We also have a camp store that offers firewood, ice, cold beverages, and other camping and local items.

SERENITY CAMPGROUND
3680 County Rd 165
Mentone, Al 35968
256-634-3686

TIGER COVE CAMPGROUND
4023 Whitehall Road
Anderson, SC 29626
864-225-5993
tigercovecampgrd@bellsouth.net


Rustic campground located in Anderson, SC directly on Lake Hartwell. We offer tent camping, RV full hookups & cabin rentals by the night, week or monthly sites. Restaurant is currently undergoing complete renovation work. Experience camping the way camping was intended to be, see our beautiful sunsets over the lake, rent one of our canoes or bring your own boat.
THE BLACK LANTERN RESORT
26845 320th St.
Shevlin, MN 56676
218-785-2200
theblacklanterninc@gmail.com


RV sites with water & elec., Cabin Rental, 200 acres, on Berg Lake, ATV & pet friendly, outdoor venue, free firewood, boat use and one RV dump with your stay.
DEER CREEK CAMPGROUND AND RIVER OUTFITTERS
628 County Rd 200
Lesterville, MO 63654
573-637-2255
reservation@deercreekcg.com


Deer Creek has many activities for the family or individual. We offer beautiful RV sites, cabins, and assorted tent sites. We have a volleyball court, a children's play area, fire rings and a picnic table for each area, We also have a BBQ pit and a covered pavilion available for rent, a pool, country store and much more. Deer Creek is also a river outfitter and we offer a 7 mile trip on the beautiful Black River. We have canoes, kayaks, tubes and rafts for rent.
MOUNTAIN SIDE CAMPGROUND & CABINS
732 Mountain Side Drive
Laurel Springs, NC 28644
336-359-8487
mountainside@skybest.com


We are located at Mile Post 248 right off the majestic Blue Ridge Parkway. We offer camping and cabin rentals on a nightly, weekly or seasonal lease. All of our cabins have a bedroom, bathroom and full kitchen. Our RV camp sites offer full hook ups. We also offer primitive camping on the pond or along either one of our two mountain streams. Come enjoy the beauty of the North Carolina mountains along with trout fishing, hiking, mountain bike riding or just getting back to nature.
BRYCE CANYON COUNTRY
55 S. Main St.
Panguitch, UT 84759
435-676-1161
info@brycecanyoncountry.com


Welcome to Bryce Canyon Country. This site provides detailed travel related information Bryce Canyon National Park, Grand Canyon National Park and surrounding areas in Southern Utah and Northern Arizona. We look forward to seeing in our Great Bryce Canyon Country Area.
MONTEBELLO CAMPING & FISHING RESORT
15072 Crabtree Falls Highway
Montebello, VA 24464
540-377-2650
montebello1@nccwildblue.com


Camping, Fishing, Cabins, & Country Store are available in this lakefront campground. We are located in Nelson County, high in the Blue Ridge Mountains, just 3 miles off the Blue Ridge Parkway. With an elevation of about 2,700 ft., our campground is available for tent camping as well as campers, RVs and trailers needing full hook-ups. We also have several cabin rentals featuring beautiful views of the mountains and our private lake. We have a pavilion that can be used for church retreats, family reunions or other group events. Fee fish in our stocked trout ponds featuring 12" - 14" rainbow trout (no license required.) And don't forget to explore our country store offering many unique gift items, camping & fishing supplies, "Montebello, VA" memorabilia, fuel and a full line of groceries.
COPAKE KOA
2236 County Route 7
Copake, NY 12516
518-329-2811
copake@hotmail.com


Copake KOA is proud to announce that we are rated in the top 10% of all campgrounds in the United States and have received the Founder's Award from KOA (now two years in a row)! Our campground provides fun for the whole family - pets included! The campground has updated electric (20/30/50 amp), Brand new Wi-Fi (as of 2014), and Cable TV. We can accommodate any type of camper from FHU sites that can fit even the biggest of rigs to tenting in our group tent area! Rent a Deluxe Cabin (bathroom inside) or one of our one room camping cabins that are located near our squeaky clean bathhouse. We are located in Columbia County New York, nestled in the Berkshire Mountains, but border two other great states - Connecticut and Massachusetts! Want to unpack and never leave the campground? We offer a ton of activities and themed weekends to really get you involved! Play tug of war, enjoy live music, play a game of kickball or even a round of our new mini golf, everyday is full of fun! Please know that we pride ourselves on being a safe and secure place and are a a gated park. The gate is open 8AM - 8PM daily. But don't worry - Should you arrive after hours and need a place to stay, we have two FHU sites before the gate (even with cable) that you can unhook in and take a rest. Whether you're a new camper or one of our favorite repeats, we cannot wait to have you as part of our camping family this season!

Being rated in the top 10% of campgrounds in the United States by both KOA and Trailer Life isn't just for show - we work hard to make sure you have a great time! Whether you want to unwind in the summer sun or keep busy the whole day with all our fun - we know you'll long for just one more day when you pick us for your stay! Looking for Campgrounds close to NYC? Copake KOA is only 2 hours away!
IVY LEAGUE DAY CAMP
211 Brooksite Drive
Smithtown, NY 11787
631-265-4177
Fax: 631-265-4698
info@ivyleaguekids.com


4-8 week day camp sessions which include door to door transportation. Mini-Day 10:15am – 3:15pm, Full Day 9:00am – 4:15pm, extended hours 7:00am – 6 pm and Teen Travel – grades7-10. Ivy League Day Camp is big enough to provide an unmatched scope of camp activities, yet small enough to attend to the needs of each child's individual camp experience.
COUNTRY VIEW RV PARK
76138 Hwy 69, Wagoner, OK 74467
Wagoner, OK 74467
918-485-8470
Fax: 918-485-8475
litlbit17@hotmail.com


RV Park approx. 5 miles from for Gibson lake right on highway 69, 3 miles from Wagoner, Ok. with 38 sites with full hook-ups, 110-30-50 amps, water and septic hook-up's,with pull thru's and back in's. with laundry and men and women's restroom's and showers and H/C shower, complementary WIFI, Propane exchanges available. Night & day video cameras covers Park. We Offer Nightly, and discounted rates for Weekly, Monthly. Call for rates at 918-485-8470, Mgr. lives on property.
HWY 97 EAST RV PARK
1717 E State Highway 97
Pleasanton, TX 78064
830-569-7963
rcfuselier@sbcglobal.net


Located in Pleasanton, Texas (Atascosa County) and the heart of the Eagle Ford Shale, Highway 97 East RV Park is one of the best places to stay if you have an RV or travel trailer. With all your amenities included (electric, water, city sewer hookup, trash, and free wifi), an on-site laundromat for your convenience, over 76 RV spaces available at 2 separate locations on Highway 97 East, and monthly and weekly rates available, our RV Park has you covered.

Our on-site office and manager make it easy for you to contact us with any questions or concerns during your stay, so you can rest easy knowing there is always someone available to help should you need it.

We offer 2 locations to guarantee availability to you and your crew. 1712 and 1717 State Highway East 97, Pleasanton, Texas. 43 spaces available at 1717 and 33 spaces available at 1712 with some trailers available for rent as well. We have plenty of space, whether you're in the Atascosa County area for work or play.
ATLANTIC CITY NORTH FAMILY CAMPGROUND
450 Ishmael Road
Tuckerton, NJ 08087
(609) 296-9163
Fax: (609) 296-3086
Reservationinquiry@campacn.com


ACN is a family friendly campground nestled in the New Jersey Pine Barrens. We are just 30 minutes from the excitement and grandeur of the boardwalk and casinos of Atlantic City, and a 15 minute drive from Long Beach Islands 18 miles of pristine shoreline. We also offer free LBI Beach badges in season. Our themed weekends offer something for everyone- from Rednecks to Super Heroes! No motorhome? No problem! Try one of our air conditioned cabins or lodges and camp in comfort. Make Atlantic City North Family Campground your home-base for all the Jersey Shore and Pinelands have to offer.
SAFARI ADVENTURE
1074 Pulaski Street
Riverhead, NY 11901
631-727-4386
sshin@thesafariadventure.com


The Safari Adventure provides safari adventure for a fun-filled day of long island children's activities. We offer a four-level playground where children can get plenty of exercise in the most exciting setting possible.

FLORIDA CAMPER RENTAL
465 Libby Alico Rd
Babson Park, FL 33827
Fax: 863-605-3995
camperrental12@gmail.com


Florida Camper Rental is the preferred full-service RV rental source for Disney Fort Wilderness, Westgate River Ranch, NASCAR, Sebring Raceway and Florida Campgrounds. We offer luxurious custom 5th wheel RV rentals, and travel trailer camper rentals.
MEADVILLE KOA CAMPGROUND
25164 State Route 27
Meadville, PA 16335
814-789-3251
Fax: 814-789-3251
Camp@MeadvilleKOA.com


Meadville KOA Campground offers the best in family camping from tent sites to big rig RV sites with cable TV! Enjoy your Western PA family cabin vacation rental in one of our camping cabins or lake-front deluxe cabins! Meadville KOA provides a serene country setting with free Wi-Fi, a swimming pool, creek, hiking trail, ponds, and small lakes for catch and release fishing, horseshoes, basketball, and volleyball! Meadville KOA features themed event weekends with planned activities like free children's crafts, ceramics($), and wagon rides! Rental amenities ($) fun band program for teens includes paddle boats, pedal karts, and mini golf. (Jumping Pillow is included on weekends).
DOWN BY THE RIVER CAMPGROUND
292 River Campground Road
Pineola, NC 28662
8287335057
info@downbytherivercampground.com


Make our centrally located Down by the River
Campground your home away from home as
you enjoy all of the outstanding attractions and
breathtaking scenes found nestled in the Blue
Ridge Mountains of Western North Carolina.
Large trees and beautiful landscaping frame
sites in our campground. Sites are flat, spacious
and most are pull-through. We are open from
May 1st until October 31st.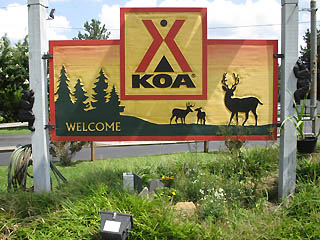 SPARTANBURG NE/GAFFNEY KOA
160 Sarratt School Rd
Gaffney, SC 29341
864-489-2022
Fax: 864-480-9561
spartanburgKOA@hotmail.com


Beautiful campground with escorted parking and big-rig pull-thru sites with 50 amp hook-up. A variety of other sites and hook-ups can accommodate any type of RV. Tents sites with and without water/electric. Cabins and lodges are available. Clean bathhouses. Pool open in season, mini-golf, laundromat, well-stocked store including gifts, LP gas, Dog Park, club house and pavilion.
ALLATOONA LANDING MARINE RESORT
24 Allatoona Landing RD SE
Cartersville, GA 30121
770-974-6089
Fax: 770-974-6143
info@allatoonalandingmarina.com


Enjoy the great outdoors lake style! Our 114 site campground is the perfect spot for your RV or tent. Or leave it to us and rent one of our two bedroom modular units. The campground is open year round and is highly rated by both Good Sam's and Woodalls.
ENCHANTED ACRES CANOE AND CAMPGROUND
PO Box 7
Irons, MI 49644
231-266-5102
joan@enchantedacrescamp.com


we offer Canoe, Kayak, Cabin and Campsite rentals
low prices campsites start at $10
GOLDEN EAGLE RANCH CAMPGROUND
710 Rock Creek Canyon Rd
Colorado Springs, CO 80926
719-576-0450
maymuseum2001@yahoo.com


The May family has kept The Golden Eagle Ranch as a wildlife preserve since 1943. The family opened the rustic campground in 1961 so other families could enjoy the beautiful natural setting.

With over 120 full hookups and 75 electric water hookups including 50 and 30 amp sites, we can accommodate all your camping needs. Our campers enjoy 12+ miles of hiking trails for all ages and abilities, trout fishing, campfires and a playground. Pets are welcome at the Golden Eagle as long as they are on a leash. The world famous May Museum of Tropical Insects, located on the property, is open for camper's enjoyment. Colorado Springs is only 15 minutes away. Pikes Peak and Royal Gorge area attractions are within 40 minutes of our peaceful, mountain property. Let us be your home base for area adventure!

SPRUCE PINE CAMPGROUND
260 Spruce Pine Campground Road
Spruce Pine, NC 28777
828-765-7007
spcamp1@juno.com


Welcome to Mitchell County's oldest and best campground. We have accommodations for long-term, self-contained, motor homes and campers. We offer large wooded sites with complete hook-ups, cable television, and an emphasis on leisure camping.

We also offer electric hook-ups with 20-30-50 amps, a playground, picnic tables, firewood, pull-throughs, ice machine, and fire rings. Inside pets are welcome.

We are located 4 miles south of Spruce Pine, NC and 4 miles north of the Blue Ridge Parkway on NC 226. Turn at Woody's Chair Shop and stay on Dale Road for 1.3 miles. Look for our sign on the left.

Policy Change for 2014: We are only able to accommodate long-term guests with self-contained RV's and campers. Long-term is defined as two weeks or more. No overnight or weekend guests. Sorry for the inconvenience.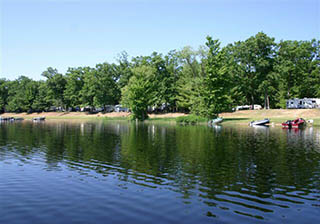 PICKEREL LAKESIDE CAMPGROUND AND COTTAGES
12666 N. Woodbridge (M-37)
Bitely, MI 49309
231-745-7268
info@LakeCamp-Cottages.com


Experience a clean and quiet family owned campground on all sport, great fishing Pickerel Lake. 45 semi-rustic sites and 4 modern cottages sit on 1/4 mile of lake frontage in the heart of the Manistee National Forest. We are just minutes away from the famous Pere Marquette River between Grand Rapids and Traverse City.


DOBY SPRINGS PARK AND CAMPGROUND
Highway 64 West
Buffalo, OK 73834
580-735-2030


Doby Springs Park and Campground is located in a picture-postcard setting just 8 miles West of Buffalo and 2 miles North of Highway 64. The park offers activities, a delightful fishing pond, several picnic areas, a pavilion, and a children's playground.

In addition, the park provides several nature trails of varying difficulty along mowed paths through rolling canyons and is situated on the High Plains Loop of the Great Plains Trail of Oklahoma. Doby Springs Park really is a joy to behold.

For those who would like to experience the camp at the park, Doby Springs Park & Campground provides 18 camper sites with electricity hook-ups and a dump station (Grey Water only).

Camp sites may be rented by contacting the city clerk at 580-735-2030.
LAKE CORNELIA CAMPGROUND
1768 O'Brien Ave
Clarion, IA 50525
515-532-3185


Lake Cornelia is a 246 acre glacial lake, stocked with Walleye, Large Mouth Bass, Perch, Crappie, Bluegill, Bullhead, White and Yellow Bass, Channel Catfish. Day use and Overnight boat docking is available in the marina.

The Park has a 70 Site Campground with 20-30-50 amp service with picnic table and burn ring at all sites.
13 sites have both sewer and water hookups, electric only is also available. There is Modern shower/restroom facilities.

3 Shelter houses ( 2 open air and 1 Enclosed) is reservable by calling the office

* Free Wi-Fi throughout the park

There is a walking trail through the park and around the lake.