category : Memorials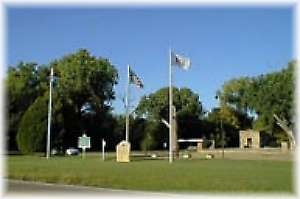 101 Ranch - A
National Historic Landmark
, this picnic area commemorates the 101 Ranch which was home to the hundreds of participants in the famous 101 Wild West Show. This show, which traveled throughout the world in the 1920s, featured sharp shooters, trick riders, ropers and Indians in full regalia.
The ranch stretched over four counties and coverd 101,000 acres - hence the name - south of Ponca City in the early 1900s. The self contained ranch
had its own tannery, dairy, ice plant, electric power plant, cannery, cider mill, and 25,000 long-horn steer. They even had their own money! The ranch was in operation for over 50 years before splitting up into small farms in 1931. None of the buildings remain, but artifacts and memorabilia are viewable on the lower lever of the Ponca City Cultural Center and Museum.
Come visit us in Ponca City, Oklahoma
Travel Advertising