category : Fishing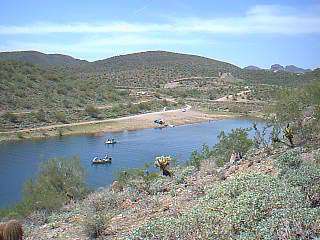 Individual or club fishing is available at Lake Pleasant by boat or shoreline. Various clubs and organizations schedule amateur to pro-national events each year. Fishing guide services are also available at Lake Pleasant.
To date Lake Pleasant is home to 8 species of fish, White Bass, Striped Bass, Large Mouth Bass, Bluegill, White Crappie, Black Crappie, Bigmouth Buffalo Fish, and Tilapia.
Spring
is the best time for anglers with the water level being high. Largemouth bass are in the shallows. Try plastic worms, plastic lizards, top water lures or small shad colored crank baits. The best live bait to use is a waterdog. White bass and striped bass are looking for shad schools. Try rattle traps, small crank baits, top water lures or catch your own live shads or minnows. The catfish are feeding at this time of year. Try the muddy or sandy coves with liver, mackerel, night crawlers or stink baits. Crappie and blue gill are active in shallow water. Try live minnows and a bobber.
Summertime
heat push the fish into deeper water where it is cooler. Night fishing is one way to increase your odds for largemouth bass. Try watermelon colored plastic lizards or worms 20-40 feet deep. Top water lures work early or late in the day. White bass or stripers are active in deeper water. Try the coves with live shad, live minnows, small deep running crank baits or trolling with spinners or crank bait in the deeper waters. Catfish are most active at night in the coves. Try the smaller bait like mackerel.
Fall
brings a drop in lake levels making fishing for largemouth bass a challenge. Try crank bait and top water lures. For white bass and stripers try crank baits, rattle traps, vertical jigging spoons or minnows in the deep coves. Catfish are in deeper water. Look for drop offs and try stink bait.
Winter
fishing is slow but not impossible. Try live bait as this works year round.
White Bass
are a non-native fish found only in Imperial Reservoir on the Colorado River and Lake Pleasant. Effective lures for White Bass are spinners, jigs, spoons, and shad type crank baits. The meat of white bass is white, firm, flaky and good to eat.
Striped Bass
can reach a weight of over 59 pounds. This non-native fish introduced in 1959 is found throughout the Colorado River between Lake Powell and the Mexican border and most recently in Lake Pleasant. Effective lures are spoons, plugs, jigs, crankbaits, and streamer flies or try shad or anchovies. The meat of the striped bass is white, firm, flaky and excellent eating.
Largemouth Bass
, first introduced in 1897, are named for their very large mouth. In adults the upper jaw may extend beyond the rear margin of the eye. The largemouth is a warm water fish that prefers clear water with structure and cover. Like all bass the largemouth is carnivorous and will eat anything that moves. Largemouth can be caught on a variety of baits, both natural and artificial. Largemouth bass meat is also white, firm and flaky, but has a mild taste.
Bluegill
is also a non-native species that was first introduced to Arizona in 1932. Bluegill are found in most reservoirs below 4,000 feet elevation. Worms are a popular bait, but also try small poppers, flies, small spinners and jigs. In 1998 the bluegill "Big Fish-of-the Year", according to Arizona Game and Fish, was caught at Lake Pleasant. The bluegill weighed in at 12.48 ounces and measured in at 10.13 inches. The meat of bluegill is white, flaky, firm, and sweet. Many consider the bluegill to be the best tasting freshwater fish around.
Lake Pleasant is the only lake where
White Crappie
are occasionally caught. This non-native species was first introduced to Arizona in 1903. Effective bait and lures are minnows, small jigs, silver spoons, spinners, and flies fished along the shorelines. In 1997 the white crappie "Big fish-of-the-Year", according to Arizona Game and Fish, was caught at Lake Pleasant. The crappie weighed in at 1 pound 10.88 ounces and measured 15.13 inches. The meat of the White Crappie is white and fine textured.
Black Crappie
are far more abundant than the white crappie. This non-native species was introduced into Arizona in 1905. Effective bait and lures are the same as the White Crappie. The meat of the white crappie is also white and fine textured. In 1995 the black crappie "Big Fish-of-the-Year", according to Arizona Game and Fish, was caught at Lake Pleasant. This crappie weighed in at 2 pounds and measured 15 inches.
Tilapia
is an exotic fish from Africa. This fish, first introduced in the 1960's, can be found in the Salt and Gila rivers and isolated populations in Alamo Lake, Lake Pleasant, and Roper Lake. Fishing for the Tilapia should be done during warmer month using worms, crickets, or dough balls. The meat is a white, fine textured meat with a very mild flavor.
A valid Arizona Fishing License is required to fish at Lake Pleasant.

Admission: Park Permit Required
Address: 19 miles NW of Peoria on St Rt 74 off Castle Hot Springs Road
Phone: 602-372-7460
Our Email: DarciKinsman@mail.maricopa.gov

Come visit us in , Arizona