Annual Fang-tastic Rattlesnake Hunt
Starting date:
Ending date:
Event# 580-228-2553
Event Details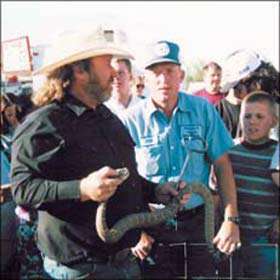 Festivities begin at noon on Friday and last all day Saturday and Sunday in April at the annual "Fang - tastic" Rattlesnake Hunt in Waurika, Oklahoma!
The Event sponsored by the Waurika Volunteer Firefighters features:
James White & the Outlaw Handlers - Grandbury, Texas. Performing feats daring and courageous in a pit filled with LIVE RATTLESNAKES. Continuous performances.
Karaoke - Friday and Saturday Evenings at Chandelier Club - 119 N Main.
Butcher Shoppe - Snake Meat, Rattlers and Hides can be purchased.
Carnival - Sam's Amusement's from Okemah, Oklahoma
Photo Booth - Get your picture taken with a LIVE DIAMONDBACK RATTLESNAKE!
Concession - Specializing in "Deep Fried Rattlesnake Meat."
Gift and Souvenir Stands
Plaques or Cash Awarded For:
LONGEST SNAKE: - 1st Place, $150, plus Bonus of $50 if over 6 feet; 2nd Place, $100; 3rd Place, $75
MOST RATTLES: - 1st Place, $75; 2nd Place, $50; 3rd Place, $25
MARKED RATTLESNAKES (THERE ARE 4): - $25 Each
All snakes entered for prizes must be LIVE AT TIME of contest. Dead snakes will be disqualified. In case of a tie in any division, the HEAVIEST SNAKE will be declared the winner. All snakes entered for prizes become the property of Waurika Rattlesnake Hunt.
* * MORE EVENTS * *
Karaoke -- Friday and Saturday Evenings at Chandelier Club - 119 N Main.
Longest Snake Auction Sunday Evening/
Sell Your Catch!! All Live RattlesnakesWill Be Purchased For Top Market Price.
No Gassed Snakes Purchased.
No gas In Hunt Areas Allowed or Firearms.
Snake Catchers for Rent of Sale While They Last.
Registration, $3.00 Per Person (For Hunters Only)
5 K Run/Mile Walk - 580-228-3581
Waurika Rattlesnake
P.O. Box 224
Waurika, OK 73573
Annual Fang-tastic Rattlesnake Hunt
Phone :
580-228-2553
(Always call and confirm events.)
Web Address :
http://www.rattlesnakehunt.com
Festivals