category : Birdwatching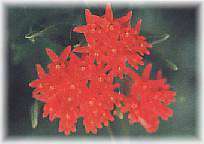 The vicinity in which Big Hill Lake is located has long been noted for its rolling prairies and tree-dotted valleys. The natural beauty of the area with its wide variety of native wildlife and vegetation is an open invitation to all nature enthusiasts.
For bird watchers there are many species of birds in the area, including the migratory waterfowl, and other species that spend summers in Kansas, as well as those inhabiting the area year round. One bird that is becoming more familiar to Big Hill Lake is the Eastern Bluebird. The population of these beautiful birds has increased in the area due to the numerous bluebird boxes placed in the park areas. This network of boxes is designated at the Gene H. Pfeil Memorial Trail.
Wildflowers are abundant in the area during the spring and fall, and can be seen in open pastures, along fence tows and in timbered areas. Persimmon, osage orange, redbud and dogwood are produced by hedgerows and former farmsteads.
Address:
5 miles E of Cherryvale, KS
Phone:
620-336-2741
Fax:
620-336-3903
Come visit us in , Kansas
Travel Advertising