category : Museums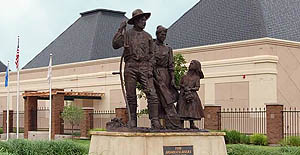 The Museum of the Cherokee Strip in Enid, OK was transformed in 2012, into the first regional heritage center for the State of Oklahoma. It doubled in size to a 24,000 square foot facility featuring new state-of-the-art exhibits and was renamed the Cherokee Strip Regional Heritage Center.
The historical museum tells the fascinating story of the settlement and development of Northwest Oklahoma, beginning with the Land Run of 1893. Through interactive exhibits, research, events, and programs, the Heritage Center makes learning a fun and engaging experience for all ages.
The impressive structure features:
* State of the art Exhibits and Interactives
* A Land Run Theater
* A Traveling Exhibit Gallery
* A Research Room with Cutting Edge Technology
* Additional Archival and Collections Storage
* An Outdoor Plaza
* ADA Accessibility for all Visitors
* "The Homesteader" statue by Harold T. Holden
* Phillips University Columns
Discover what it was like to be in the saddle astride your galloping horse racing to stake your claim. See what it was like to live in a sod house, and see the importance of agriculture, oil and transportation to the region, the City of Enid as the center of commerce for the region, and Phillips University. On the grounds of the Heritage Center is Humphrey Heritage Village, a collection of four historically-significant buildings, including the only remaining 1893 U.S. Land office, a 1902 church, a 1905 Victorian home and an 1895 one-room school house. The Village provides educational programs and is available for rental for special events and weddings.
** In 1893, the Cherokee Outlet, or strip as it is known today, was opened for settlement. In less that 100 years this vast prairie domain was changed from an Indian hunting ground to an area of prosperous farms and growing cities.
President Grover Cleveland designated September 16, 1893, as the date of the "run." On that day, an estimated 100,000 people rushed in from the borders to stake a claim. They came by horse, train, wagon, and even on foot, all trying to claim the best farmland or town lot. Many of the hopeful settlers remained landless, shunning the rough terrain in the western part of the Outlet. By the end of the day, farms were being established, and the cities of Enid, Perry, Alva, and Woodward had risen out of what had been virgin prairie the day before.

Hours: Tuesday-Saturday 10 am-5 pm
Address: 507 S. 4th Street
Phone: 580-237-1907
Our Email: csrhcinfo@okhistory.org
Our Website:www.csrhc.org/

Come visit us in Enid, Oklahoma