Whitewater, Kansas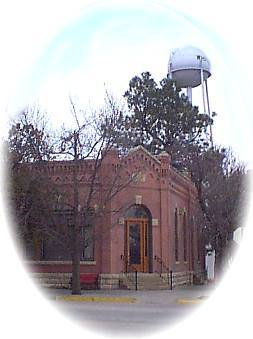 In 1885, the McPherson branch of the Missouri Pacific came through Milton Township, Butler County, Kansas. A station was located near the center of the township and the town of Brainerd was quickly built. The next year the Rock Island came through the western edge of the township, located a station, and built a depot at the junction of the two railroads. By August 1887, the first trains were run. A town was plotted and laid off by the Golden Belt Town Company. A few businesses started in the town and an equal number moved their businesses from Brainerd, including the bank and newspaper.

As to where Whitewater got its name, it is said that the company that plotted the town wanted to name it Neiman after the postmaster who owned the land where the town was platted, but he would not let it be so. The land area was known as Whitewater Valley Land from a creek that ran along the west county line, so it is believed the name came from this source.

Whitewater offers a distinct advantage as a bedroom community to the surrounding metro area. Lying to the east are the Flinthills of Kansas, characterized by grassy plains and valleys with some of the country's best upland bird hunting. The Eldorado State Park and Lake offers outdoor recreation in swimming, water-skiing, boating, fishing and hunting. To the west, with the glitz of the metro providing and expanse of urban diversity, residents are in near proximity to a variety of entertainment and abundant shopping in the Wichita metropolis.
---
Attractions near Whitewater, Kansas
General overview of the historical buildings and figures relating to Lecompton's role in the history and making of Kansas....
Hunting for waterfowl and upland game is permitted during the appropriate season. ...
The brochure outlines a self-guided walking and/or driving tour of historic sites in Dodge City, The Santa Fe Trail and Fort ...
Go-Karts, Bumper Cars, Mini golf, Roller Skating, Arcade Games, Food Court. Book the banquet room for your party!...
---
Whitewater Kansas Related Videos
This video shows you how to say or pronounce Whitewater, Kansas. A computer said Whitewater, Kansas. How would you say Whitewater, Kansas?
eric 2nd desent at chaw falls.
eric first desent at chaw falls.
Sectional and Panel Garage Doors Whitewater, Kansas 67154 Call us at (877)596-3167 http://www.sectionandpanelgaragedoors.com/ks/whitewater Sectional and Pane...
For more information visit http://www.century21.com/ks/whitewater/119-n-locust-67154/property-C21D52PB5 119 N Locust Whitewater, Kansas, 67154 MLS# 373960 Be...
Overhead Door Repair -- Whitewater, KS 67154 Call Us: (877)596-2154 http://www.overheaddoor-repair.com/ks/whitewater Garage Door Repair Company Whitewater, K...