Gridley, Kansas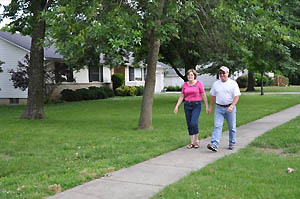 Three hundred sixty friendly, caring people call the City of Gridley "home." Gridley is located 6 miles south and 8 miles west of Burlington on Kansas Highway 57. This small community sits catty-cornered to the world as it was platted perpendicular to the Santa Fe Railroad in 1890.

Our town has very good schools. The classes are small so our students receive individual attention that proves invaluable. Two school buildings house grades preschool through grade 12 and outreach courses from Iola Junior College are held each semester in Gridley and have proven to be very popular as well as beneficial.

Gridley is clean and has well-kept streets. The Jones Youth Park on Main Street has tennis courts, a basketball court, horseshoe pits and nice playground equipment. There is an outdoor shelter house with picnic tables and braziers. Also located in Jones Park is the Gridley Community Building which can be rented for reunions and special events. For weekend family fun, fishing, boating, or hunting are year round activities to enjoy at the Gridley City Lake. The Lake has an aggressive fish management program, which includes fish stocking, supplemental feeding, restrictive length and creel limits, water level management, and a fish habitat development.

Gridley has three special yearly events, the Saturday before Easter, Fourth of July, and an "Evening in the Park" at Christmas.

A new library was constructed during the summer and fall of 1990 and offers many of the up-to-date facilities of the larger city libraries. As a branch of the Coffey County Library, Gridley has access to more literature through the interlibrary loan system as well as access to copiers, faxes, public computers, and a comfortable meeting room.

Come and see us. You'll enjoy Gridley!
---
Attractions near Gridley, Kansas
This course is a Class A private Country Club with many reciprocal privileges. The 9 hole course has multiple tees for men & ...
---
Gridley Kansas Related Videos
This silent motion picture shows street scenes, schools, railroads, homes, children, and people in Gridley, Kansas.
Gridley is home to over 360 residents, and is located on Highway 58 in the eastern part of Kansas in Coffey County. A few miles to the west begin the beautif...
This video shows you how to say or pronounce Gridley, Kansas. A computer said Gridley, Kansas. How would you say Gridley, Kansas?
Call 1-888-551-1270 consumer credit counseling service cccs debt counseling credit card debt consolidation credit consolidation Gridley Kansas.
Gridley Kansas 1-888-908-5653 credit repair credit rating credit repair service fix credit repair credit counseling debt consolidation.
Call 1-888-505-2369 filing bankruptcy chapter 7 filing for bankruptcy chapter 13 Chapter 7 Bankruptcy Attorney Chapter 13 Bankruptcy Lawyer chapter 11 bankru...