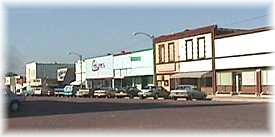 Howard
, county seat of Elk County, is a friendly city of about1000 people. Downtown, where new and older buildings congenially reflect our growth and stability, offers shopping, banks, clothing and grocery stores, restaurants, a pharmacy, service stations, a movie theater, a hotel, court house, post office ... and more. An interesting reminder of the past is the well that was drilled in
Howard
's earliest days at the intersection of Wabash and Randolph. Though paved over for many years, during a heavy rainfall, this well fills up, seeps through the brick and water runs down Wabash.
The years have brought many changes in our city and in the area, but the beauty of the environment remains, the stamina and principles of our founding fathers continue in our modern lives. Our view is wide-ranging: across the past from which we have learned so much...into the present to analyze our values and protect the benefits we have acquired... and toward a future whose roots we are nurturing even now.
The friendly town originally called
Howard
City was established in 1870 in a triangle of land surrounded by three wooded streams. The site was so wisely chosen that the town has never been flooded. In 1877, the name adopted at the time of incorporation was simply "
Howard
."
The name dates back to the days when Kansas was a territory. The Territorial Legislature named this area Godfrey County. When Kansas became a state after the Civil War, the name was changed to
Howard
County in honor of a war hero, General Oliver Otis
Howard
(1830-1909). The county included what are now Elk and Chautauqua Counties. In 1875, the county was divided and
Howard
became the county seat of the present Elk County.
Howard Kansas Related Videos