Woodward, Oklahoma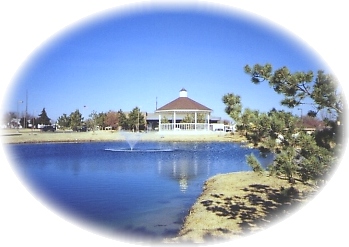 Young or old, sports-minded or culturally inclined, from rural or urban America - Woodward offers something for everyone! Visitors are greeted by welcoming smiles into a relaxed, easy-going atmosphere which makes this community a pleasant home-away-from home.

Take a stroll through downtown Woodward with a walking tour brochure which guides you to Main Street's historic areas. Lovers of the arts will appreciate the beautifully renovated Woodward Arts Theatre and Cultural Centre.

Ranked as one of the top five small museums in the nation, Woodward's Plains Indians and Pioneers Museum was named by the Oklahoma Historical Society as the best local history museum in the state in 1993.

City slickers and real cowboys rub elbows at the annual Woodward Elks rodeo in July, dubbed the toughest rodeo in Oklahoma. Other annual events include arts and crafts fairs, a Bluegrass Festival and the most brilliant Crystal Christmas.

Visit Woodward Anytime

You're always welcome!
---
Attractions near Woodward, Oklahoma
WELCOME TO THE CHANDLER ROUTE 66 INTERPRETIVE CENTER ... "a whole new meaning for the term REST STOP" You will be delighte...
What first catches the eyes of westbound travelers on Route 66 on the north side of Catoosa is a giant blue whale. This once ...
Opportunities are excellent for the hunting enthusiast who comes to the area surrounding the Robert S. Kerr Reservoir. Approx...
---
Woodward Oklahoma Related Videos
A riveting glimpse of a home town hero desperately calling out over News9 as a deadly night time tornado rips apart his town: Woodward, OK.
Take a trip with me through Woodward, Oklahoma...one of the "most friend" small towns in America according to the Rand McNally and USA Today's 2011 "Best of the Road" rally. Woodward has grown.
Basic route teenagers drove cruising Main Street Woodward Oklahoma in the 60's. My video was "blocked" at first because of music copyright problems. Sound had to be removed. I listen to...
A Tornado hit Woodward Oklahoma on the morning of April 15th, 2012 around 12:20 a.m. The tornado destroyed more than 80 homes and more than 10 business'. It also caused damage to 100's of...
Created from postcards and photographs of the most deadly tornado to ever strike within the borders of the state of Oklahoma which occurred on Wednesday, April 9, 1947 in the city of Woodward....
NOT FOR BROADCAST - LICENSING AVAILABLE*** STORM CHASER TONY LAUBACH www.tornadoeskick.com VIDEO DESCRIPTION A large supercell responsible for a pair of tornadoes in the ...