Fort Smith, Arkansas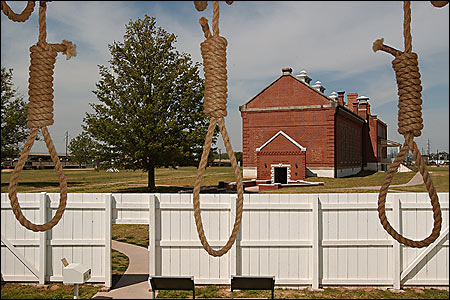 On the banks of Arkansas River, Fort Smith celebrates its Wild West history at museums like the National Historic Site, through preservation of numerous historic homes and through annual festivals, such as its Old Fort Days Rodeo, held each spring. Downtown, Garrison Avenue is full of shopping, dining, arts and entertainment venues.

Fishing opportunities abound with the Arkansas River Navigation System, which has created scores of quiet inlets and bayous filled with many kinds of native Arkansas fish. The Ft. Smith area also has a reputation as a bird sanctuary. Other outdoor recreational opportunities such as hiking and canoeing can be found nearby at Devil's Den State Park and the Mulberry River.

Located on the Arkansas-Oklahoma border and near the junction of Interstates 40 and 540, Fort Smith is 5 miles from Van Buren, 47 miles from Arkansas wine country, and 63 miles from Fayetteville.
---
Attractions near Fort Smith, Arkansas
The Ozark Highlands Scenic Byway includes 35 miles of Ark. 21 from the Ozark National Forest southern boundary north of Clark...
Credit Cards Accepted: MasterCard, Visa Depicts the history of agriculture and pioneers who farmed the Grand Prairie, wat...
Dam Site Lake Description: Class A park with flush toilets, showers, trailer dump station, designated camping space...
Contains a working water-powered grist mill, restaurant and gift shop. ...
Canoeing and kayaking on the Mulberry River, hiking on the Ozark Highlands Trail, mountain biking, rock climbing for all leve...
Guided tours of the historic 1895 Hawkins House, plus exhibits on local history. "The Attic" is a hands-on exhibit for childr...
---
Fort Smith Arkansas Related Videos
View more travel videos from all over the world; find information on destinations, hotels, attractions and more at videoglobetrotter.com.
A Drive in Town Fort Smith, Arkansas Fort Smith, Arkansas lies on the Arkansas-Oklahoma state border, situated at the junction of the Arkansas and Poteau Riv...
Official video of the Fort Smith Convention & Visitors Bureau, Fort Smith, Arkansas. Come experience our historic frontier city in entirely new ways. Come ma...
Driving in Van Buren, AR to Fort Smith, AR. More of the video is in Fort Smith. Filmed on August 4th 2012. Music courtsey of Danosongs.com.
"Life's Worth Living In Fort Smith, Arkansas!"
A fun Video of the Fort Smith areas Hillcrest and Park Hill Subdivisions.