Fort Smith, Arkansas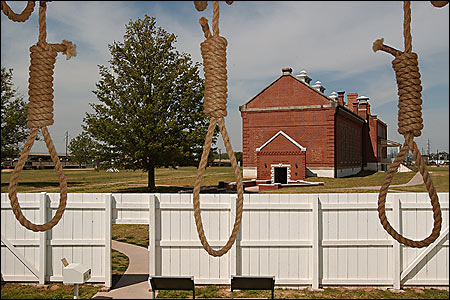 On the banks of Arkansas River, Fort Smith celebrates its Wild West history at museums like the National Historic Site, through preservation of numerous historic homes and through annual festivals, such as its Old Fort Days Rodeo, held each spring. Downtown, Garrison Avenue is full of shopping, dining, arts and entertainment venues.

Fishing opportunities abound with the Arkansas River Navigation System, which has created scores of quiet inlets and bayous filled with many kinds of native Arkansas fish. The Ft. Smith area also has a reputation as a bird sanctuary. Other outdoor recreational opportunities such as hiking and canoeing can be found nearby at Devil's Den State Park and the Mulberry River.

Located on the Arkansas-Oklahoma border and near the junction of Interstates 40 and 540, Fort Smith is 5 miles from Van Buren, 47 miles from Arkansas wine country, and 63 miles from Fayetteville.
---
Attractions near Fort Smith, Arkansas
The refuge lies in the floodplain of the White River near where it meets the mighty Mississippi River. Long and narrow, three...
Directions: Downtown Historic District Built in 1891; artifacts include early paintings, Thomas Edison Collection, Native ...
Semi-private 18-hole championship golf course located just 5 minutes off Interstate 30; front nine holes designed by Joe Fing...
Exhibits the works of local artists as well as artists from all over the state. ...
Eleven main historic structures and numerous additional outbuildings, all of which have been brought here from various sites ...
The auto museum located between Third and Broad Streets in downtown Texarkana, Arkansas, had its grand opening on Saturday, S...
---
Fort Smith Arkansas Related Videos
Ghost Adventures Ghost Adventures is an American television series about the paranormal that premiered on October 17, 2008, on the Travel Channel. Produced by MY-Tupelo Entertainment, ...
A Drive in Town Fort Smith, Arkansas Fort Smith, Arkansas lies on the Arkansas-Oklahoma state border, situated at the junction of the Arkansas and Poteau Rivers, also known as Belle Point....
View more travel videos from all over the world; find information on destinations, hotels, attractions and more at videoglobetrotter.com.
Bobby Joe Burns murdered his mother in 1958 in Fort Smith Arkansas, he mutilated her body, decapitated her and carried her head to the Immaculate Conception Church and left it. This is a story...
ຂ່າວເຣຶ່່ອງໄຟໄຫມ້ວັດລາວພຸທຣາມ (ວັດນອກ) ເມືອງ Fort Smith, Arkansas on March 5, 2015 https://www.youtube.com/user/ame...
Driving in Van Buren, AR to Fort Smith, AR. More of the video is in Fort Smith. Filmed on August 4th 2012. Music courtsey of Danosongs.com.