Fort Smith, Arkansas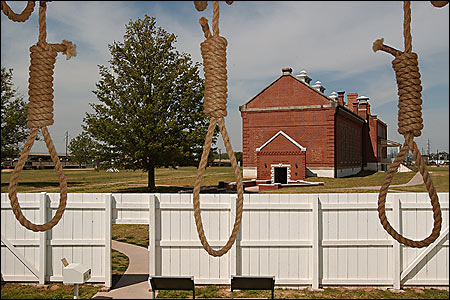 On the banks of Arkansas River, Fort Smith celebrates its Wild West history at museums like the National Historic Site, through preservation of numerous historic homes and through annual festivals, such as its Old Fort Days Rodeo, held each spring. Downtown, Garrison Avenue is full of shopping, dining, arts and entertainment venues.

Fishing opportunities abound with the Arkansas River Navigation System, which has created scores of quiet inlets and bayous filled with many kinds of native Arkansas fish. The Ft. Smith area also has a reputation as a bird sanctuary. Other outdoor recreational opportunities such as hiking and canoeing can be found nearby at Devil's Den State Park and the Mulberry River.

Located on the Arkansas-Oklahoma border and near the junction of Interstates 40 and 540, Fort Smith is 5 miles from Van Buren, 47 miles from Arkansas wine country, and 63 miles from Fayetteville.
---
Attractions near Fort Smith, Arkansas
A birdwatcher's paradise, this refuge is home at different times of the year to Canada geese and several species of ducks, ba...
Covered picnic area, five miles of walking trails; Arkansas native flora; Tour Guides may be available with advance request ...
Directions: Crawford County Courthouse Lawn Has been in existence for over 150 years ...
see web site www.monteneatbeaverlake.com...
Movies shown on a 17-foot-by-25-foot "screen" painted on the wall of a historic building. Audience encouraged to dress in a c...
---
Fort Smith Arkansas Related Videos
Official video of the Fort Smith Convention & Visitors Bureau, Fort Smith, Arkansas. Come experience our historic frontier city in entirely new ways. Come ma...
View more travel videos from all over the world; find information on destinations, hotels, attractions and more at videoglobetrotter.com.
A Drive in Town Fort Smith, Arkansas Fort Smith, Arkansas lies on the Arkansas-Oklahoma state border, situated at the junction of the Arkansas and Poteau Riv...
"Life's Worth Living In Fort Smith, Arkansas!"
Products Manufactured at the Fort Smith Plant: NEMA 140, 180 and 210 Frame AC Single & Three Phase Induction Motors 1 - 20 Hp, IEC 90 - 132 Frame Motors 0.75...
Driving in Van Buren, AR to Fort Smith, AR. More of the video is in Fort Smith. Filmed on August 4th 2012. Music courtsey of Danosongs.com.