Fort Smith, Arkansas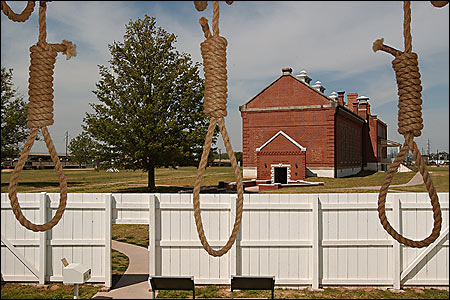 On the banks of Arkansas River, Fort Smith celebrates its Wild West history at museums like the National Historic Site, through preservation of numerous historic homes and through annual festivals, such as its Old Fort Days Rodeo, held each spring. Downtown, Garrison Avenue is full of shopping, dining, arts and entertainment venues.

Fishing opportunities abound with the Arkansas River Navigation System, which has created scores of quiet inlets and bayous filled with many kinds of native Arkansas fish. The Ft. Smith area also has a reputation as a bird sanctuary. Other outdoor recreational opportunities such as hiking and canoeing can be found nearby at Devil's Den State Park and the Mulberry River.

Located on the Arkansas-Oklahoma border and near the junction of Interstates 40 and 540, Fort Smith is 5 miles from Van Buren, 47 miles from Arkansas wine country, and 63 miles from Fayetteville.
---
Attractions near Fort Smith, Arkansas
Daisy Manufacturing Company, Inc. is the world's oldest and largest manufacturer of airguns, ammo and accessories. One gun, m...
Tube rides, kneeboarding, skiing, plus leisurely sightseeing trips available; two-hour, sunset and moonlight cruise packages ...
Fishing, wildlife observation, photography, hunting, environmental education and interpretation, camping; designated ATV trai...
Course Access: PublicHoles: 9Reserve Advance Tee Times: Yes...
The Buffalo National River is a 95,000-acre national park that preserves unique natural and cultural features of the Arkansas...
Spans military history from the Civil War to Vietnam. Housed in the old Arkansas Ordinance Plant administration building. Col...
---
Fort Smith Arkansas Related Videos
A Drive in Town Fort Smith, Arkansas Fort Smith, Arkansas lies on the Arkansas-Oklahoma state border, situated at the junction of the Arkansas and Poteau Rivers, also known as Belle Point....
View more travel videos from all over the world; find information on destinations, hotels, attractions and more at videoglobetrotter.com.
Driving in Van Buren, AR to Fort Smith, AR. More of the video is in Fort Smith. Filmed on August 4th 2012. Music courtsey of Danosongs.com.
Lucidome Sound and Visual presents the first Fort Smith Cypher! Let us know what you think. We will start taking submissions for the next #FortSmithCypher in the Summer ! Keep watch on our...
Bobby Joe Burns murdered his mother in 1958 in Fort Smith Arkansas, he mutilated her body, decapitated her and carried her head to the Immaculate Conception Church and left it. This is a story...
Products Manufactured at the Fort Smith Plant: NEMA 140, 180 and 210 Frame AC Single & Three Phase Induction Motors 1 - 20 Hp, IEC 90 - 132 Frame Motors 0.75 -- 15 kW, 8" - 14" Industrial Bench...