Fort Smith, Arkansas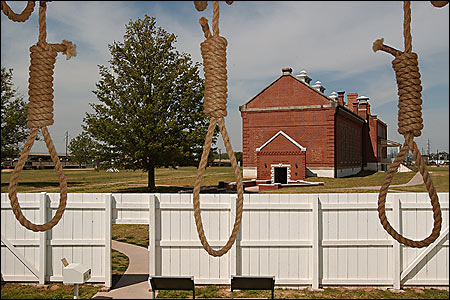 On the banks of Arkansas River, Fort Smith celebrates its Wild West history at museums like the National Historic Site, through preservation of numerous historic homes and through annual festivals, such as its Old Fort Days Rodeo, held each spring. Downtown, Garrison Avenue is full of shopping, dining, arts and entertainment venues.

Fishing opportunities abound with the Arkansas River Navigation System, which has created scores of quiet inlets and bayous filled with many kinds of native Arkansas fish. The Ft. Smith area also has a reputation as a bird sanctuary. Other outdoor recreational opportunities such as hiking and canoeing can be found nearby at Devil's Den State Park and the Mulberry River.

Located on the Arkansas-Oklahoma border and near the junction of Interstates 40 and 540, Fort Smith is 5 miles from Van Buren, 47 miles from Arkansas wine country, and 63 miles from Fayetteville.
---
Attractions near Fort Smith, Arkansas
Two park locations on 34,000-acre lake: Russellville (main park) and Dardanelle. Bass fishing, boat ramps, hiking trails, lak...
Directions: Turn South at Harps Grocery on Ark. 178. Features formations millions of years in the making; the site has been u...
Course Access: PrivateHoles: 18Reserve Advance Tee Times: Yes...
Directions: Located off Lawson Road and Ark. 141, south of Jonesboro The second of four nature centers constructed by the ...
---
Fort Smith Arkansas Related Videos
Official video of the Fort Smith Convention & Visitors Bureau, Fort Smith, Arkansas. Come experience our historic frontier city in entirely new ways. Come ma...
View more travel videos from all over the world; find information on destinations, hotels, attractions and more at videoglobetrotter.com.
A Drive in Town Fort Smith, Arkansas Fort Smith, Arkansas lies on the Arkansas-Oklahoma state border, situated at the junction of the Arkansas and Poteau Riv...
2013 LQF. Special Vlog. Viewer's Discretion is advised. Lap Dancing. Turnt up party! Subscribe to ASIANBROADCAST.
"Life's Worth Living In Fort Smith, Arkansas!"
American Eagle ERJ140 Takeoff at Fort Smith Regional Airport Runway 7 I apologise for the shaky video. Thus needing to turn on Video stabaliser.