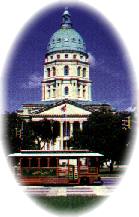 The first and still one of the best! The Downtown Topeka Ghost Tour offers a history lesson of Topeka and the haunts associated with them. The Kansas State Capitol Building is majestic indeed! I suppose it would have to be considered the death cloud that hangs over its existence! Angst in the Alleys and Brains in the basement seems appropriately named for this tour. Jayhawk Hotel and Theater create a partnership of paranormal mayhem. Be sure to check out the full apparition of a bum that was captured during a Downtown Tour in the alley of Jayhawk by a tour guest. Maybe you can be as lucky during this get out stop. South Kansas Avenue seems to be plagued with a paranormal epidemic, Field of Greens, The Break Room, Hazel Hill and 3-Flower's Metaphysical Treasures, just to name a few. Highlight for the Downtown tour is a stop at the Pit Cemetery on State Hospital Grounds.
All Tours depart from Celtic Fox Restaurant at 8th and Jackson in Topeka, Kansas.
Downtown Walking Ghost Tours
All Downtown Topeka Walking ghost tours depart from 3-Flower's Metaphysical Treasures at 733 S., Kansas Avenue, Topeka. The Walking Ghost Tour is approximately 1 mile long and lasts 1 hour 20 minutes. The majority of locations on the walking tour are the same as the driving tour so you get the same tour for half the price plus some good exercise and fresh air. South Kansas Avenue is a paranormal gold mine!
For ticket purchase or more information, email or call. Please visit our website.