category : Railroad History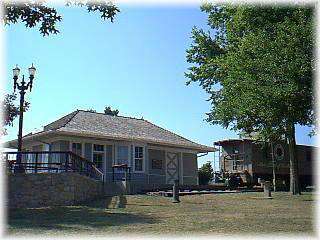 The 1912-1913 Frisco Train Depot was relocated to the Legler Barn Museum Complex in 1987, from its long time home in old town Lenexa at the intersection of Santa Fe Trail Drive and Pflumm.
The Depot features the exhibit By Way of Lenexa: Early Modes of Transportation and traces the methods of travel through Lenexa from the beginning of the Santa Fe Trail in 1821, through the days of the Missouri & Kansas Interurban Railroad to the heyday of the Frisco Railroad in the mid-twentieth century.
Admission:
FREE ADMISSION
Hours:
Tuesday - Friday, 10 a.m. - 4 p.m.
Saturday and Sunday, 1 - 4 p.m.
Closed on Mondays, all major holidays.
Address:
14907 West 87th Street Parkway
( 1 mi east of I-435 and 2 MI west of I-35 on 87th)
Phone:
913-492-0038
Our Email:
aelliott@ci.lenexa.ks.us
Come visit us in Lenexa, Kansas
Travel Advertising