category : Museums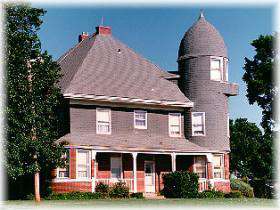 The Seay Mansion is a monument to a dream, a dream that Kingfisher would be the new capitol of Oklahoma Territory; a dream that never came true. Abraham Jefferson Seay, the second Territorial Governor of Oklahoma from 1892 to 1893, built the three-story mansion named, "Horizon Hill," on fifteen acres of land just outside Kingfisher, Oklahoma, in March, 1892. The mansion was completed just in time to host the various dignitaries present for the land opening of the Cheyenne and Arapaho Reservation. The opening of the surplus land was one of the most significant events of Governor Seay's administration.
Meticulous care has been taken to maintain the period authenticity of the furnishings in the mansion. From "puddle drapes" to the kitchen flour bin, each room is a museum in itself. A few pieces remain from the Governor's own furnishings, and particular features of the home such as the back to back ornately tiled fireplaces and the detailed door frames and cornices are maintained for your appreciation.
Admission:
$2 per person / Donations also accepted
Hours:
Tuesday through Saturday -- 10 a.m. to 5 p.m.
Closed Sunday & Monday (and legal holidays)
Address:
605 Zellers Ave.
Phone:
405-375-5176
Fax:
405-375-5176
Museum Complex - Directions: From U.S. Hwy. 81 in Kingfisher, five blocks west on Seay Ave., one block north to Zellers Avenue
Come visit us in Kingfisher, Oklahoma
Travel Advertising