Our community of
Hays
, a city of 20,000, presents the rare mix of the amenities of a larger city in the wholesome setting of a small town. This peaceful environment is perfect for a comfortable family life, while providing many commercial and economic opportunities.
In August of 1867
Hays
City began when the Union Pacific Railroad, Eastern Division, reached the area. The town was located here not only because of its proximity to the railroad, but also due to the presence of Fort
Hays
, a U.S. Army garrison. Teamsters, railroad workers, homesteaders, soldiers, and even desperadoes following the railroad, made
Hays
City a tough "end of the track" town.
Of all the downtown businesses, The Tommy Drum Saloon may be the most well known. The record is cloudy as to when Tommy Drum came to Hays City, but it was sometime prior to June 1, 1870, when he was listed on the US Census. He was a veteran of the U.S. 6th Infantry in both the Mexican and Florida Wars. Drum's Saloon reputedly was a favorite gathering place of many famous men such as "Buffalo Bill" Cody, "Wild Bill" Hickok, Lieutenant Colonel Custer and Generals Miles and Sheridan.

Two Goddard brothers, Cy and Ed, also ran saloons in early Hays City. The Goddards may have played an important role in William Cody gaining the nickname "Buffalo Bill" by giving him a job hunting buffalo for them. "Wild Bill" was probably in this area as early as April of 1867 as a scout for Lieutenant Colonel George Custer. In December of the same year he was in Hays as a Deputy US Marshal. From late July or early August of 1869 to December of 1869, Hickok served as the acting sheriff of Ellis County. He apparently was not elected by served at the will of the vigilante committee. During his term as acting sheriff, Hickok killed 2 men, who may have been more or less outside the law than Hickok, depending on which historian you believe. The buildings from Hays violent past are gone but its history lives on in names such as "Wild Bill" Hickok, "Buffalo" Bill Cody, "Rattlesnake" Pete Lanahan and James "The Cur" Currie.

Located on the grounds of the Ellis County Historical Society Museum at 100 W. 7th is the reconstructed Volga-German House. This house was built from information obtained through diaries and documentation passed down to the descendants.
Hays Kansas Related Videos
Upcoming Events in Hays Kansas
May 27, 2013

May 30, 2013

June 8, 2013

June 21, 2013

July 3, 2013
Popular Attractions in Hays Kansas
Thomas More Prep-Marian
Hays, KS | Category: Education Centers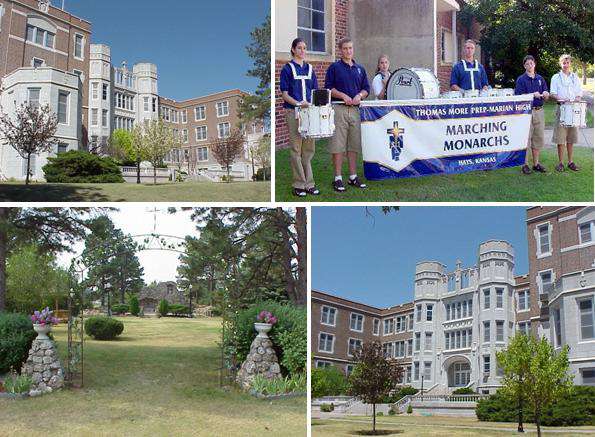 "Give us four years and we'll give you a lifetime!" Fully accredited Catholic High School that offers both a boarder and day program. Small student-teacher ratio and family atmosphere. Excellent educational and extra-curricular opportunities. 86% of our graduates receive college scholarships.
Thomas More Prep-Marian