category : Historic Sites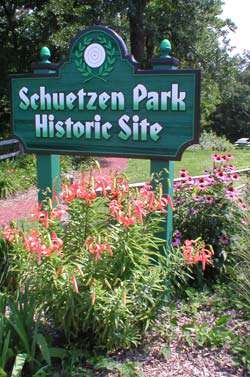 This site holds many special memories for generations of local German-Americans and other area residents. In 1870, the Davenport Schützengesellschaft (later called the Schützen Verein) created this "Schützenpark", or shooting park, as a target range for rifle marksmanship. In addition to the shooting and target houses, the park included an inn, dance hall, music pavilion, zoo, bowling alleys, roller coaster, refreshment stands, athletic field, picnic grounds, and other amusements. As many as 12,000 people visited the park in a single day for major events.
The popularity of Schuetzen Park began to decline around 1917, when anti-German sentiment from World War I restricted the activities of German-Americans and led to the prohibition of the use of the German language in public. Many businesses and organizations changed their German names. For a time, Schuetzen Park was renamed Forest Park. The Davenport Schützen Verein became known by its English equivalent, the Davenport Shooting Association.
The park was dealt another serious blow in 1919 when the "Prohibition Act" outlawed the manufacture and sale of alcoholic beverages, which had been a major source of revenue for the park. The park was sold in 1923, and it became the site of the Chiropractic Psychopathic Sanitarium. The Davenport Shooting Association continued to use the park for many years after the 1923 sale. However, today, the Association has a new range in Scott County near Princeton. In 1960, much of the property again changed hands to the Davenport Good Samaritan Center.
Today, what remains of this special site is being preserved as a "Wildpark". The only original park building that remains is the 1911 street car waiting station, which was named a local historic landmark in 1998 by the City of Davenport.
Since 1995, the nonprofit Schützenpark Gilde has worked to maintain the street car waiting station and the historic site, to preserve the surrounding woodlands, to obtain and preserve historic artifacts and information about the park, to help people enjoy the park in its present form. A new picnic shelter was built in the Park in 2005 and cultural events are held at the site all year 'round.

Admission: Free
Address: 700 Waverly Rd.
Phone: 563-322-5489
Fax: 563-322-5489
Our Email: SchuetzenPark@aol.com
Our Website:www.schuetzenpark.info

Come visit us in Davenport, Iowa