Independence, Kansas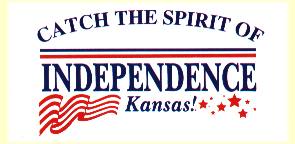 Communities are simply a reflection of the citizens who live there. In Independence, Kansas that vision reflects a fierce pride for a colorful past and a sincere determination to preserve it while continually forging ahead. Citizens of Independence don't just "reside" here... they "live" here. And that takes a good amount of dedication and involvement... a commitment to its success.

In August, 1869, a small band of men left the city of Oswego, Kansas, hoping to find a favorable spot and become founders of a city. Their southwesterly course led them to the Verdigris River Valley.

The first stop occurred at Montgomery City, in Drum Creek Township, but they failed to obtain satisfactory arrangements with the Town Company that was already there. Determined to build a city that should bear in its name the spirit that prompted its establishment, Independence was founded. A post office was established in Independence July 1, 1870. In accordance with a proclamation issued by the Probate Judge, Independence became incorporated as a village on July 23,1870.

Legend has it that Independence, in the late 19th and early 20th centuries, had more millionaires per capita than any place else in the United states. Standing as testimony to that legend are the stately mansions still scattered throughout the city. The five story former ARCO building at 200 ARCO Place, now the home to various businesses and state offices, still stands as a monument to the entrepreneurial spirit that not only produced the oil and gas industries, but also helped shape the future of Independence.

We're proud to be the hometown of Academy Award and Pulitzer Prize-winning playwright William Inge; cable TV newsman/producer Bill Kurtis; Vivian Vance of "I Love Lucy" fame; Miss Able, the first monkey in space; Martin Johnson, world explorer; Harry Sinclair, founder of Sinclair Oil; and Alf Landon, 1936 presidential candidate. Others who called Independence home include Laura Ingalls Wilder, author of the Little House books; and Tom Mix and Louise Brooks of silent movie fame.

We invite you to enjoy the abundance of history, culture, and recreation that is uniquely ours. We're sure you will "Catch the Spirit of Independence."
---
Attractions near Independence, Kansas
Lakewood Discovery Center at Lakewood Park is a unique setting which creates and nurtures curiosity and interest of nature wi...
George Washington Carver made Minneapolis, Kansas his hometown from 1880-1884, when he graduated from Minneapolis High School...
WHAT TO KNOW ABOUT ACCURATE FISHING REPORTS: This is just to remind you that fishing reports are given with the bes...
Indian attacks along the Santa Fe trail were frequent from the 1820's to the 1870's. Near here, where the trail followed the...
---
Independence Kansas Related Videos
16 minute video reviewing the City of Independence, Kansas Quality of Life; including industries, schools and amenities. Narrated by Bill Kurtis.
Copyright 2010 Independence Community College. All Rights Reserved.
A ride through Independence kansas.
A visit by the Family Travel blogger to a reconstruction of the Laura Ingalls Wilder "Little House on the Prairie," on its original site in Kansas. Related post on my Family Travel blog:...
y cuando llega la primavera.
Each year we journey north to take the kids from the church to cool off for the summer. This is a great water park for families and churches.