8 - 11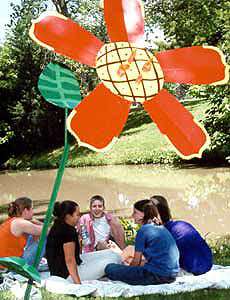 Smoky Hill River Festival - SECOND WEEKEND - In Salina, the first breath of true summer is marked by the arrival of the Smoky Hill River Festival. A carousel of color and sound unfolding, the Festival presents a sophisticated palette of events in a refreshingly laid-back atmosphere. The Smoky Hill River Festival is an affordable pleasure oriented to all ages, rivaling big city events. Once you've experienced it, you won't miss it ever again!

The festival draws over 90,000 people to Salina's beautiful Oakdale Park. Join family and friends in experiencing the sights and sounds of extraordinary artists and entertainers from all over the world. 90 juried exhibiting artists, 50 juried craftspeople in four craft markets, 35 performing groups, 30 incredible food vendors, two & five mile runs, a 25 mile bike race, sand sculpture, and many kid's activities. GATES OPEN DAILY 10:00 AM.

Address: Oakdale Park , Salina, Kansas
Ph: 785-309-5770 (Always call and confirm events)
Fax: 785-826-7444
Web: www.riverfestival.com
Fee: $6 (advance fee), with buttons purchased at the gates for $8. Children 11 and younger are admitted free.