Greensburg, Kansas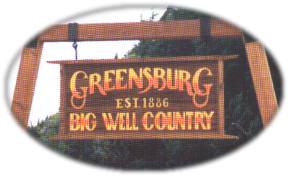 Prior
to Tornado Disaster - May 4, 2007
In 1886, Governor John Martin organized Kiowa County and named it after the native Indians of the area. Small settlements were springing up across the plains. Donald R. Green "Cannonball Green" was instrumental in the organization of Greensburg, the town that would bear his name. Green was elected Kiowa County's first representative in the Kansas legislature in 1889.
Colonel Green was a flamboyant, boastful character. He liked to dominate a crowd while twirling his diamond-studded watch chains. He owned and operated "The Cannonball Stageline." His fine stagecoaches and speeding broncos blazed trails which railroads and highways later followed. He took great pride in the speed of his coaches and advertised that even "Father Time" couldn't keep up with the "Cannonball".
His stageline brought stability and prosperity to the towns it served as he helped his passengers become acquainted with prairie life. But his stageline was up-staged when the railroad came to Kiowa County. And that begins the story of the World's Largest Hand Dug Well!
---
Attractions near Greensburg, Kansas
The art of quilt making figures strongly in the history of our early pioneers. The "Kansas Quilt Walk" was developed to both ...
We have live country music every Saturday night at 7:30 pm. We also have special shows such as shows with "The Bellamy Broth...
ArtSpace is a gallery of contemporary art featuring the work of Rich Thibodeaau, Mri-Pilar, Nicole Thibodeau, Susan Whitfield...
---
Greensburg Kansas Related Videos
How does a Midwest town recover from a devastating tornado? When that town is Greensburg, Kansas, it returns to its pioneer roots and rebuilds sustainably. I...
Five years after being hit with and EF-5 tornado, Greensburg, Kansas is well on its way back. It's a 'green' city, it's a city exploring new ideas in buildin...
http://www.UltimateChase.com The EF-5 tornado that struck the small town of Greensburg, Kansas on May 4th , 2007 caused complete destruction. Over 95% of the...
Never-before-seen footage of the Greensburg, KS EF5 tornado that tore through the southwest Kansas town the night of May 4, 2007. This video shows the deadly...
Rebuilt after the tornadoes destroyed Greensboro, Kansas on US Highway 54.
Greensburg, KS - A town that was devastated by a tornado in 2007, yet came back to be one of the Nation's most energy-efficient, sustainable communities. Civ...