Kolache Festival
Starting date:

Event# 405-567-4866
Event Details

Every first Saturday in May, the citizens of Prague welcome people from around the world to join them in celebrating the rich Czech culture that played a vital role in the city's founding. The Kolache Festival is not just about dance, song, food, crafts, parades, carnival rides, and royalty. The Kolache Festival represents the best of Czech tradition and culture. It symbolizes the warmth and fellowship of the Bohemian people.

The largest one-day arts and crafts show in the state is set up in the northwest section of the City park and opens at 9:00 a.m. An amusement carnival is based on the southeast edge of the park with rides and games for all ages.

At 11:00 a.m. one of Oklahoma's largest parades starts at the west edge of town and makes its way through downtown Prague ending at the south edge of town. Residents dressed in colorful and brightly decorated Czech costumes can be seen along the parade route. Floats, bands, beautiful girls, horses, clowns, and the world famous Shriners make up the two-hour parade.

Free entertainment ranging from singers, dancers, bands, gymnasts, are guaranteed to please the curiosity of all. Entertainers may be seen at open grandstands in the park, and strolling through the streets.

Food and souvenir booths line either side of Main Street. Visitors can feast on the locally made smoked Czech sausages, klobase, as well as satisfy their sweettooth with the favorite flavor KOLACHE. Other ethnic foods such as Indian tacos, and Polish hot dogs can also be found on the food route.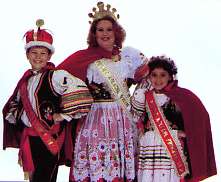 A Czech costume judging contest plus folk and Czech dancers add an array of color to the festival and bring out the heritage of our first settlers.

The crowning of the KOLACHE FESTIVAL ROYALTY, at 6:15 p.m. is one of the highlights of a full day of fun. At 7:00 p.m. the new queen customarily starts off the famous polka street dance that continues until 11:00 p.m.
Kolache Festival
Phone :
405-567-4866
(Always call and confirm events.)
Web Address :
http://www.pragueok.org/
Cultural Festivals