category : Landmarks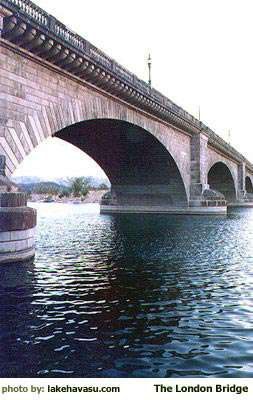 The focal point of Lake Havasu in the far western boundary of Arizona is the towering walls and archways of the London Bridge that has stood in the waters of the Colorado River for more than 25 years. The Bridge serves as the backdrop to the English Village that has grown up around it. The village is filled with Tudor-style buildings and charming shops creating an atmosphere of Medieval England. Many visitors are surprised when they learn this is the original London Bridge and not a gimmick.
For more than 140 years, London Bridge served as a crossing over the River Thames in London, England. It survived both world wars and a terrorist attack in 1884. So why did London want to remove such a significant landmark? And how did the London Bridge end up in Lake Havasu City, Arizona?
The London Bridge had survived many historic events, but not nature's sinking forces. The Bridge began to sink into the River Thames and in 1968, the city of London decided to sell it for 2.5 million dollars to Robert P. McCullock, founder of Lake Havasu City.
It took 3 years and another 7 million dollars to dismantle, ship and rebuild the bridge. Today, the London Bridge connects Lake Havasu City with an island in the lake. Its massive body of stone brings the essence of England to Arizona.
Our Website:
www.lakehavasu.com
Come visit us in Lake Havasu City, Arizona
Travel Advertising