category : Historic Mills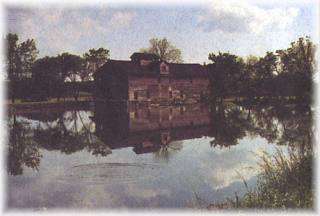 ON NATIONAL REGISTER OF HISTORIC PLACES
Jolly Mill Park is a privately supported recreational and historical park. The purpose of the Park is to restore and preserve the history of the Capps Creek valley to be enjoyed by the people who live in the area and for those who have an interest in the valley.
The 1848 mill containing Isbell's Distillery and Jolly Mill has been a landmark in Southwest Missouri for over 150 years, and is listed on the National Register of Historic Places. Built with slave labor by Thomas Isbell and his son, John, the three floor structure still retains the original hand-hewn and pegged framing timbers and limestone slab foundations. A village named Jollification quickly developed around the distillery/mill to serve as a rest stop and re-supply point for wagon trains and stagecoaches. Because of new taxes on whiskey which owner George Isbell refused to pay, the distillery was closed in the 1870s. Isbell turned his attention to the milling of flour.
In 1983, a group of interested citizens organized a Foundation to restore and preserve the Jolly Mill as a nucleus of public recreation park for picnicking and fishing. Mill restoration was completed in 1998 when the repaired water-powered machinery began grist milling demonstrations.
The mill building has been restored to a much stronger structure than it was originally. The "live" foundations have been reinforced with concrete. New foundations and piers have been built. The floor have all been totally redone. The wiring has been replaced. The interior has been remodeled to retain the original structure and feeling. The mill machinery has been isolated for safety reasons. A Boardroom and office for the Foundation were enclosed on the second floor. There is also space for special functions on the first and second floors. The turbine and other machinery has been taken from various storage places and restored. It is now in place and is used on occasion to grind corn, wheat or other grains. The dam has been rebuilt and raised in height by about 6 inches. The mill pond is again a beautiful and useful element and is stocked with rainbow trout.
Other features at Jolly Mill Park include:


RUSSELL COX GAZEBO


WOOTEN PLAZA MOORE BANDSTAND


CHAPMAN SCHOOL - 1884


SHEPHERD SAWMILL


COVERED BRIDGE


MEMORIAL WALKWAY


CUMMINS BRIDGE


HAWKINS BRIDGE


DOLL QUILT COLLECTION


RADKE PLAYGROUND


HASKINS BRIDGE


Information from the National Register of Historic Places:
Jolly Mill ** (added 1983 - Building - #83004021)
SW of Pierce City, Pierce City
Historic Significance: Architecture/Engineering, Event
Architect, builder, or engineer: Unknown
Architectural Style: No Style Listed
Area of Significance: Exploration/Settlement, Architecture, Industry
Period of Significance: 1850-1874
Owner: Private
Historic Function: Agriculture/Subsistence, Industry/Processing/Extraction
Historic Sub-function: Manufacturing Facility, Processing, Water Works
Current Function: Vacant/Not In Use, Work In Progress

Hours: Hours: Sunrise to Sunset
Address: 11262 Jolly Mill Lane
Phone: 417-476-2607

Come visit us in Pierce City, Missouri