category : Cabins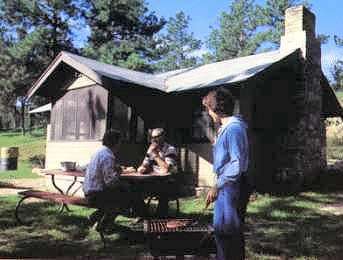 Chadron State Park has lodging accommodations to fit your needs, with 22 housekeeping cabins; 16 have two double beds, while 6 have two twin beds in one room, and one queen bed in the other. Each cabin is furnished with bed linens, blankets, and towels. Kitchenettes have stoves, refrigerators, cooking utensils, and towels. Cribs or rollaways are available for a small additional fee, while extra linens are available for the asking. For those who want to stay with a group or schedule a full-blown family reunion, the park offers a multi-use facility perfect for group camp.
Lodging reservations are accepted up to one year in advance and are taken by mail, telephone, or in person during regular park office hours. An advance must be paid within 10 days of reservation confirmation. Deposits can not be refunded for cancellations or failure to appear. Cabins may be rented on a first-come, first-serve basis, if available.

Admission: $3 entry permit required.
Hours: Park open year-round.
Address: From Chadron, 9 miles S off U.S. 385
Phone: 308-432-6167
Our Email: Chadron@ngpc.ne.gov

Come visit us in , Nebraska
The park has 14 modern, two-bedroom, air-conditioned housekeeping cabins. Each has two double beds, bedding, towels for four,...