category : Pony Express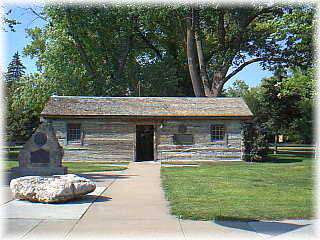 The Sam Machette Station was used as an early fur trading post/ranch house along the Oregon Trail southwest of Gothenburg before it was used as a Pony Express station during its operation between April 1860 and November 1861. The Pony Express carried mail between St. Joseph, Mo., and Sacramento, Calif. In 1861, the telegraph put an end to the Pony Express.
The station was moved from its original site and rebuilt in Ehmen Park in 1931. The restored station displays the Official Pony Express Plaque of the Oregon Trail Memorial Association, and the Bronze Plate supplied by Mrs. C.A. Williams. The inscription on the plate is as follows:
"1854--Erected on the Oregon Trail four miles east of Fort McPherson, Lincoln County, Nebraska, and used as a Fur Trading Post and Ranch House. 1860-61--Used as a Pony Express Station. 1862-1931--Used as Overland Trail Stage Station, Dwelling, Bunk House and Storage House, on Upper "96" Ranch. 1931--Donated by Mrs. C.A. Williams to the City of Gothenburg, Nebraska. Moved from its original site and restored here by Gothenburg Post No. 64, American Legion. Dedicated to all Pioneers who passed this way to Win and Hold the West."
At this original station of the "lightning mail", you can see exhibits, experience a guided tour and even post mail with a Pony Express seal.

Admission: FREE ADMISSION
Hours: Station Hours: 8 a.m. to 8 p.m., June-August,
9 a.m. to 6 p.m. during May and September
9am to 3pm during April and October
Address: 1500 Lake Avenue in Ehmen Park
1.5 miles north of I-80
Phone: 308-537-3505

Handicapped Accessible
Come visit us in Gothenburg, Nebraska