category : FESTIVALS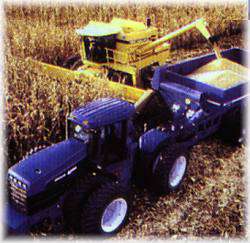 The largest working irrigation show in the United States, the Husker Harvest Days is jointly sponsored by the Agricultural Institute of Nebraska (AIN) and Farm Progress Companies, with Nebraska Farmer magazine as host.

When you drive to the show site six miles west of Grand Island, you'll find approximately 450 exhibitors and many field demonstrations. Come and view the wide range of products and services showcased at the event and the educational opportunities that are available. Farm organizations, commodity boards, state agency officials, health specialists and company representatives are there to answer questions. All HHD crops are irrigated and all major irrigation equipment manufacturers are exhibiting systems and components. If you need a place to relax and be entertained, stop by the craft tent, listen to poets, or take in a fashion show.






Admission: Admission: $5.00 daily for adults over 18, under 18 Free.
Address: Six miles west of Grand Island
Our Website:www.huskerharvestdays.com
Free parking and overnight camping for self-contained units are available in the visitor's parking lot, or bus service will provide transportation from Sam's Club and Quality Farm and Home.
Come visit us in Grand Island, Nebraska