category : Festivals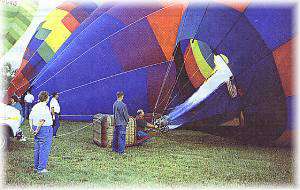 The big Yorkfest celebration will continue to be the
highlight of the beginning of autumn and the close of
the summer. Held annually the first full weekend of
September, Yorkfest with its hot air balloon display
promises to be an exciting, stimulating, fun-packed
weekend not to be missed.

Activities kick off early Friday with a prayer
breakfast at 6:30 am. A coronation luncheon is held
at noon to honor the Yorkfest king and queen - two
of the city's most involved senior citizens. A senior
luncheon and activities follow at the city auditorium until 4 pm. A Kiddie Parade is scheduled at 5:30 pm
at the East Hill ball park, and the Children's Fair is held at 6 pm.

Early Saturday morning the hot air balloons will take off - to highlight the already incredible York sunrise.
The Photography and Art Show and a craft show begin at 8 am. The Grand Parade is held at 10 am
which moves all around the downtown square. Model trains are on display form 10 am to 4 pm, and the
Yorkfest Auto and Motorcycle Show begin at noon. Bed Races are held at 12:30 downtown. At the
fairgrounds the Focus on Youth events will be available, as well as the Mutton Buster's event.

Sunday morning, the hot air balloons take off again and the exciting archery shoot begins at 8 am. The
Volksmarch also begins at 8 am, and also the golf tournament. A fishing tournament is held between 1
and 4 pm. Shakespeare in the Park is slated for 2 pm. The increasingly popular Figure Eight races are
scheduled for 1:30 pm, Sunday afternoon.

Phone: 402-362-5531, or
< P align ="center">1-888-SEE YORK
Come visit us in York, Nebraska