Eureka Springs, Arkansas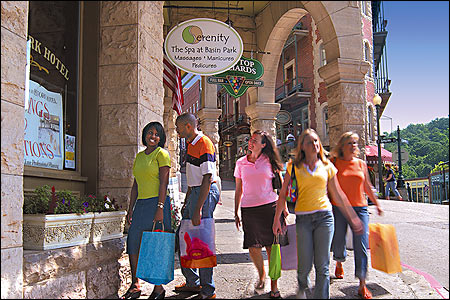 Secluded and peaceful with winding mountainside streets, Eureka Springs has a flair like no other town. In fact, the National Trust for Historic Preservation named Eureka Springs as one of its "Dozen Distinctive Destinations." Streets are lined with Victorian homes hugging cliffsides, and its entire downtown area is on the National Register of Historic Places. Eureka Springs has block after block of one-of-a-kind shops, boutiques, fine art galleries, craft emporiums, spas, museums and restaurants. Festivals and events span everything from blues, jazz and opera to car shows to UFO's, antiques and the arts. Top-name entertainers perform at The Auditorium and thousands attend The Great Passion Play each year. Eureka is also home to several music variety shows. Trolley and carriage rides are a popular way to see the city. Historic hotels and unique bed and breakfast inns, hotels and cabins accommodate visitors.

Nestled in the heart of the Ozarks, outdoor opportunities abound. Trout fishing is popular on the White River, and canoeing and fishing are popular on the Kings River. Beaver Lake offers the excitement of water sports, camping, fishing and hiking. The area is also popular for mountain biking and horseback riding.

Also, Eureka Springs is 49 miles from the Buffalo National River, and 58 miles from Fayetteville.
---
Attractions near Eureka Springs, Arkansas
An I.H.R.A. (International Hot Rod Association) sanctioned 1/4 mile dragstrip ...
Turpentine Creek Wildlife Refuge and Call of the Wild Bed & Breakfast is a 450-acre rescue facility with over 100 big cats, s...
Exhibits of students' work, including paintings and sculptures. Rotating exhibits....
13,800-acre lake known for hybrid striped bass, largemouth bass and crappie fishing. State park, privately-operated resort, C...
Antiques, flea market items ...
---
Eureka Springs Arkansas Related Videos
A Tour of Eureka Springs.
Planning a corporate meeting/event, group tour, family reunion, wedding or any other special happening? Eureka Springs, Arkansas has the answers for you. Thi...
Eureka Springs is known for its quirks, old town charm and the occasional haunting. But, it's beneath that's raising eyebrows and causing serious concerns.
A ride on my 2008 Goldwing through Eureka Springs Arkansas on 8-18-2012. Recorded on a GoPro Hero2 camera on a suction cup mount on the nose of the Goldwing.
A drive through Eureka Springs, Arkansas. Pretty much all of Downtown the morning of 8 29 09.
In October of 2008, a group of ladies opted to sleep in "the morgue" of The 1886 Crescent Hotel and Spa, located in Eureka Springs, Arkansas. The reason this...