category : ORV Areas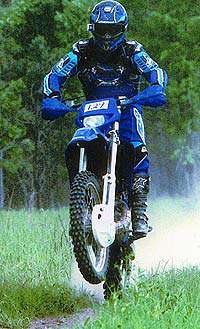 The Camp Gruber ORV Area was created by a land grant from the Federal Government's Department of the Interior in March of 1990, constituting the largest land grant from the Federal government to a County government to date. A 455 acre sliver of this army base is operated by the Camp Gruber Recreation Trust Authority as an off-road vehicle area. The terrain ranges from sandy to good ol' dirt with several rocks along the way. Enduros and hare scrambles are held at Gruber throughout the year.
Mountain Bicycles may be rented at the park office for $3.00/hour or $10/day.
Greenleaf State Park is just a short drive further south on SH 10 and offers excellent campground facilities, cabins, and activities.

Hours: Open year round, except during scheduled events.
Address: Located between Muskogee and Braggs on OK Highway 10
Phone: 918-272-4115
Our Email: douggrif@gbronline.com
Our Website:www.tulsatrailriders.com/Gruber/Index.htm
The Gruber ORV Park has no means of income other than the land use fees generated by competition racing events held on the property, gate fees, and by donations from park users. A $3.00 per person per day land use fee is included in each racers entry fee.
*** PLEASE NOTE: A $5.00 dollar per vehicle gate fee is sometimes charged to alert incoming Gruber ORV Park users that a competition event is taking place, and that NO recreational trail riding will be allowed on the racing week-end, until the event is officially over. The gate fees will also help generate additional revenues to cover some of the Gruber ORV Park's operating expenses and help with generating matching funds for any and all Trail Grant Projects. ***
Come visit us in , Oklahoma