category : Arts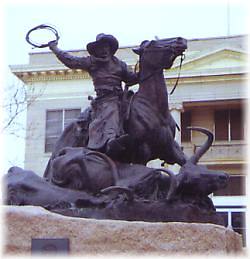 The "Crossing the Red" statue depicts a cattle drover herding cattle across the Red River which flows just 30 miles south of Altus along the Oklahoma / Texas border. This area was along the Great Western Cattle Trail, where millions of head of cattle were driven from Texas to the Kansas Stockyards and further north. Some of these cattlemen were the settlers of the area.
The Crossing the Red Statue was cast by Harold T. Holden in 1991, and was erected in front of the County Courthouse to commemorate those early pioneers, cattlemen, and settlers.
Come visit us in Altus, Oklahoma
This downtown memorial honors oil industry giant, Earl P. Halliburton, founder of Halliburton Services, an international oil ...