category : Recreation
Simmons Center's 105,000 sq. ft. facility serves as a focal point for recreational, social, cultural and business activity in Southwest Oklahoma.
A Duncan Oklahoma dream that is an inspirational example of the Oklahoma "can-do" spirit is manifested in the L.B. and Ola Simmons Community Activities Center. The massive 105,000 square-foot facility houses a recreation center designed to meet the recreation and fitness needs of all ages through its outstanding design, state-of the art equipment and innovative programming.
The elegant Jack A. Maurer Convention Center has the ability to host events with attendees ranging from five to nearly 1,000. Located within easy driving distance of Oklahoma City, Tulsa, Wichita Falls, Dallas and other areas of the southwest, it is a perfect venue for corporate and association meetings as well as private events such as family reunions and wedding receptions.
The finale to this amazing facility is the exquisite performing arts theatre which has been heralded by performers all over the globe. Seating 750 in continental style seating, the Theatre showcases all of the performing arts as well as general sessions for conventions.
Simmons Center extends to you a warm invitation to stop by for a tour. Whether you decide to join us just for the day or on a regular basis, you too can experience these tremendous facilities and remarkable services.
Recreation facilities include: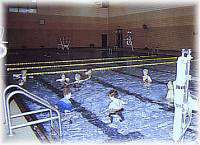 Six Lane, 25 meter swimming pool with a one meter diving board Instructional swimming pool, 2'6" deep
Whirlpool/jacuzzi
Mens and womens locker rooms with sauna, showers and lockers
Two full sized gymnasiumsdesigned for basketball, volleyball and tennis
Elevated running/walking track
Racquetball courts also equipped for walleyball and handball
Exploration station - an indoor play gym for children 3-11
Game room with table tennis and electronic games
Weight/exercise room with state-of-the-art Cybex, Universal, cardiovascular and free weight equipment
Aerobics/dance room


Nursery for ages six weeks to six years
Atrium lounge and refreshment/snack center
Pro shop with various sportswear items for sale
Centennial Park - a fully accessible outdoor park for children of all ages
9 hole disc golf course open to the public with no fees
Simmons Center offers birthday and group booking packages for your childs next party. Children can enjoy Exploration Station (ages 3-11), swim, play basketball, walleyball, and enjoy game room activities. For more information, call Lori Mirth at 252-2900 ext. 243.


Hours: Monday through Friday: 8:30am - 4:30 p.m.
Address: 800 North 29th Street
Phone: 580-252-2900
Fax: 580-252-3799
Our Email: simmons@texhoma.net
Our Website:www.simmonscenter.com/


Come visit us in Duncan, Oklahoma