category : Zoos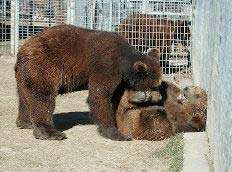 G.W. Zoo, located west of Wynnewood, Okla., at I-35 and Exit 64, was established in 1999 as a non-profit, no-kill sanctuary for abused and abandoned wildlife. The 16-acre park houses a wide array of exotic creatures - from tigers, lions and bears to monkeys and reptiles. The park also serves as refuge for wolves, bobcats, foxes and many other wildlife species indigenous to the Midwest, as well as common farm animals.
G.W. Exotic Animal Park hosts on-site safari campouts, cookouts, birthday parties and other special events for small and large groups. The sanctuary also offers an educational and entertaining road show - complete with a 30-foot mobile exhibit, live tigers and other wild animals - for business, school or community functions.
Playtime with a baby Tiger is $45.00 for two people for 15 minutes. Additional time is $22.50 for two people.
Big Cat Feeding Tour is $25.00 for one bag of chicken to feed the tigers. General admission is not included with this deal and will need purchased in order to feed the tigers.

Admission: $15 adults, $10.00 for children under 12. Children under 2 are free with paying adult. Guided Tour, $35-$25.
Hours: 7 Days a week, 9 am to 7 pm; Winter Hours: Wed - Sun, 10 am to 4 pm
Address: I-35 at Exit 64
Phone: 405-665-5197
Our Email: info@gwpark.org
Our Website:www.gwzoo.org

Come visit us in Wynnewood, Oklahoma