Oklahoma Wildlife Expo
Starting date:
Ending date:
Event# 405-522-6279
Event Details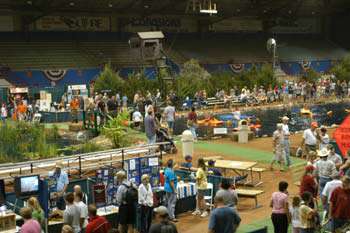 Come discover new and exciting ways to enjoy your outdoor Oklahoma at the state's largest indoor and outdoor recreation event. It's an outdoor experience where visitors fish, shoot, kayak, rock climb, mountain bike, see and touch wildlife, learn about recreation in the great outdoors. And it's FREE!

From camping and outdoor skills to shooting sports and fishing, from bird watching to kayaking, Expo visitors have an opportunity to try their hands at two full days of fun in the outdoors. Presented by the Oklahoma Department of Wildlife Conservation and a coalition of conservation organizations, agencies and sponsors, Expo celebrates our great state's natural diversity and opportunities for the sporting enthusiast.

- Outdoor Arts and Crafts
- Wild Skills and Thrills
- Kid's Corner
- On Target
- Fish and Wildlife Management
- The Wild Backyard
- Learn more, see more, do more with the help of participating partners - Special "Hands-On"
- Hunter Education Course
- Special Attractions and Giveaways
- You could win a Lifetime Combination License by pre-registering for the Expo -

Friday 12 - 6 p.m.
Saturday 8 a.m. - 6 p.m.
Sunday 8 a.m. - 6 p.m.
Oklahoma Wildlife Expo
Address :
Lazy E Arena, 9600 Lazy E Drive off I-35
Guthrie
OK
Phone :
405-522-6279
(Always call and confirm events.)
Web Address :
http://www.wildlifedepartment.com/wildlifeexpo.htm
Expos
Attractions and Upcoming Events
Things to do near Guthrie, OK