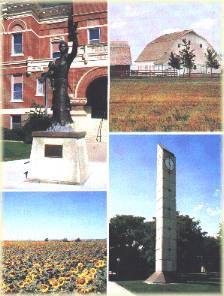 "The Oasis on the Plains"
"Welcome to Colby!" Take time to experience our progressive community located on the high plains in Northwest Kansas on Interstate 70 just 53 miles east of Colorado and 42 miles from Nebraska.
Colby is home to many attractions including Kansas' biggest barn at the Prairie Museum of Art & History, Northwest Research Center, abundant parks and recreational facilities and the picturesque Thomas County Courthouse.
Shopping includes outstanding retail, outlet and discount establishments. Thomas County is primarily an agricultural area growing wheat, corn, sorghum, sunflowers. Livestock production is also vital to the area economy.
Quality of life abounds for our citizens and visitors alike. Community annual events are a source of pride with special events of interest all. Awaiting you are over 500 motel rooms and a large variety of dining establishments. Colby is the service center for the Tri-State area. It is the home of Colby Community College, a modern airport, numerous churches, progressive medical care with two care centers and hospital.
We are proud of our warm, friendly people and invite you to join us.
Colby Kansas Related Videos
Discover Colby/Thomas County Kansas an oasis where you can live, work, shop and visit.
By: GetColbyKansas
Duration: 5.70
min.
Views: 679
Rating: 0
High Plains of Eastern Colorado & Western Kansas.
By: Ross Long
Duration: 4.08
min.
Views: 820
Rating: 5.0
Police officers in Colby, Kansas run through a training exercise on school shootings. One officer fails by laying the gun right next to the suspect, while an...
By: jjthewickedwitch
Duration: 6.25
min.
Views: 215
Rating: 5.0
NOT FOR BROADCAST - LICENSING AVAILABLE*** STORM CHASER TONY LAUBACH www.tornadoeskick.com VIDEO DESCRIPTION A powerful storm system pushing into the plai...
By: Tony Laubach
Duration: 3.03
min.
Views: 331
Rating: 3.6666667
By: Jonathan Hoskins
Duration: 0.52
min.
Views: 197
Rating: 5.0
What you are about to witness will undoubtedly blow YOUR SOCKS OFF!!! This masterpiece was created by Jenny & Chelle for Sir Thompson's Magical Class of Soci...
By: jaybird130
Duration: 3.73
min.
Views: 1336
Rating: 4.0
Went on a quick day chase to west Kansas and found some strong winds along with a strong line of storms with lightning.
By: SevereStormMedia
Duration: 1.55
min.
Views: 58
Rating: 5.0
CoSirenCars would like to present a test of this Federal Signal 3T22 in Colby, Kansas. This siren is located next to the bank on South Range Avenue. This is ...
By: CoSirenCars
Duration: 4.48
min.
Views: 71
Rating: 5.0
this is a test of a Federal Signal 3T22 located on W 5th St and Walker Ave in Colby Kansas. There are 5 other federal Signal sirens located around the city. ...
By: CoSirenCars
Duration: 5.52
min.
Views: 263
Rating: 5.0
Probably the most interesting day of our trip! Lots of changes in scenery and plenty of stops, which you might see as pauses/blips in the vid. We started the...
By: tphonenumber
Duration: 6.17
min.
Views: 215
Rating: 5.0