category : Golf Courses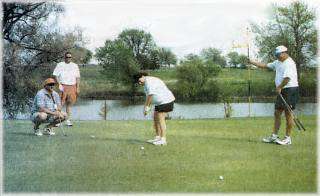 The Osage City Country Club offers a driving range, putting green, friendly atmosphere, lots of water and lots of challenge for most golfers. The Country Club offers well conditioned, watered fairways - somewhat unusual for a 9-hole course. Tee times are not needed on weekdays but are recommended on weekends. An outstanding pro shop also offers full service club repair.
The Course is 3028 yards with a men's par of 36 for 9 holes. Hole #8 is the course's signature hole, a 200-yard, par 3 across water.
Address:
1 miles S on 4th from Market St.
Phone:
785-528-3329
Come visit us in Osage City, Kansas
Travel Advertising