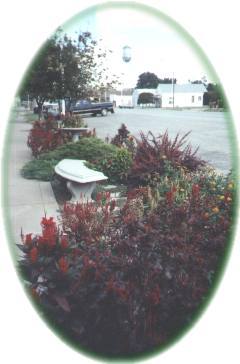 Protection
, located in the western side of the county just off the highway, swells almost to overload every five years when alumni are invited back for a
Protection
High School reunion. Folks come from the far ends of the earth for this friendly little town's festivities. An annual community FunFest has recently been organized.
Protection
also boasts a nine-hole grass greens golf course, situated on the east edge of town.
Once called the "Biggest Little Town in Kansas," where "push and sociability are the characteristics,"
Protection
has remained the second largest town in Comanche County since the 1890s.
The town originated in the summer of 1884, and after several meetings its charter was filed in Topeka, October 29. The name
Protection
had apparently been chosen as a name when the post office was opened; but, as to the meaning behind the unusual name, several stories have surfaced over the years. One referred to the safety at a fort during an Indian scare. Other reasons were based on
Protection
's location. With creeks on two sides, the site was said to be protected from prairie fires. The origin of
Protection
's name is most often linked with a protective tariff which was a much discussed issue in the 1884 presidential campaign.
Protection Kansas Related Videos
On Wednesday, May 22, 2013 Rep. Trent Franks (AZ-08) hosted a press conference regarding the Pain-Capable Unborn Child Protection Act. The bill would restric...
By: Congressman Huelskamp's channel
Duration: 45.95
min.
Views: 1
Rating: 0
A memorable chase from 2007! An incredible supercell produces multiple tornadoes around the town of Protection, Kansas on April 23, 2007, including three at ...
By: stormhighwaycom
Duration: 12.37
min.
Views: 246
Rating: 5.0
An outbreak of severe weather impacts Kansas and Oklahoma with large hail and beautiful storms! This is the first of a three day stint of severe weather acro...
By: StormChasingVideo.Com
Duration: 2.27
min.
Views: 7753
Rating: 4.625
A powerful storm system rumbled through the Plains and upper Midwest on Sunday, spawning tornadoes that damaged homes and buildings near Oklahoma City and pu...
By: HTH Channel
Duration: 1.03
min.
Views: 355565
Rating: 4.4105263
B-Roll footage of the deadly Shawnee, OK Wedge tornado. 0:00 - 1:20: Various Stages of the Shawnee, Oklahoma tornado as it goes from Stovepipe to wedge and b...
By: StormChasingVideo.Com
Duration: 3.65
min.
Views: 117284
Rating: 4.688623
On April 16th, 2013 - Kansas Governor Sam Brownback signed into law Senate Bill 102 (SB102), formerly HB2199 -- the 2nd Amendment Protection Act. In the wake...
By: MLordandGod
Duration: 8.13
min.
Views: 226
Rating: 5.0
NOT FOR BROADCAST - LICENSING AVAILABLE*** STORM CHASER TONY LAUBACH www.tornadoeskick.com www.facebook.com/TonyLaubach VIDEO DESCRIPTION An outbreak of s...
By: Tony Laubach
Duration: 2.60
min.
Views: 107
Rating: 5.0
Jeff wins the first ever race at Kansas.
By: Rainbowarriors24
Duration: 19.75
min.
Views: 611
Rating: 5.0
April 23, 2007 Protection, Kansas Tornado Outbreak With tornado sirens wailing and thunder crashing, a supercell thunderstorm produces multiple tornadoes wit...
By: bnvn1
Duration: 25.02
min.
Views: 3096
Rating: 0
Daniel J. O'Connor, P.E., Chief Technical Officer at Aon Fire Protection Engineering, previews features at NFPA Conference & Expo, June 10-13 in Chicago at t...
By: National Fire Protection Association
Duration: 2.55
min.
Views: 16
Rating: 0