category : Hunting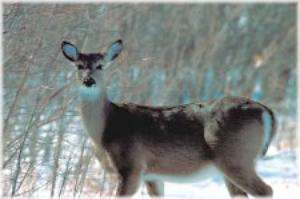 The Salt Plains National Wildlife Refuge maintains a 1,200 acre for public hunting of migratory and upland game birds. Contact the refuge office for specific restrictive regulations. Deer hunting on the refuge is by permit drawing only. All other hunting is prohibited and the remainder of all other government lands are closed to hunting.
The Salt Plains refuge is closed except for the following areas, which are open
April 1 - October 15
.
* Sand Creek north of State Highway 11
* East and west branches of Salt Fork river north of Hwy. 11
* East branch of Salt Fork river south of Hwy 11 one mile
* Children's Fishing Pond at Refuge headquarters.
* Portion of the lake south and east of buoy line from State Highway 38
The 32,000 acre national wildlife refuge borders the Great Salt Plains Lake on its upper end. Located on the Central Flyway, the refuge provides habitats for approximately 300 species of birds and 30 species of mammals. Winter seasonal visitors include ducks, geese, crane, and bald eagles. Summer brings endangered least terns, egrets, herons, and pelicans among others. The refuge provides camping, nature trails, children's fishing pond, salt plains viewing tower, and a selenite crystal digging area.
Activities on the refuge are strictly controlled with many areas closed from October 15 through April 1. Please contact the office for assistance in determining allowable activities.
Admission:
Park Permit Required
Address:
12 miles E of Cherokee, Jct SHs 11 & 38
Phone:
580-626-4794
Fax:
580-626-4793
Come visit us in , Oklahoma