Spinach Festival
Starting date:

Event# 913-541-0209
Event Details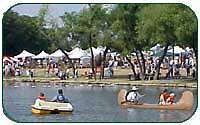 The Spinach Festival began in the early 1980's as an opportunity for the Lenexa community to celebrate its heritage. The Spinach Festival celebrates Lenexa's earliest claim to fame as the "Spinach Capitol of the World" during the 1930's. Belgian farmers grew spinach in the Lenexa area and shipped it out by rail. The Depot was used to ship the spinach to the canneries of New York and Chicago during the 1930's. The City of Lenexa was also established in the middle of several old wagon trails that criss-crossed the area. The Spinach Festival rolls all of the history surrounding Lenexa into a fun celebration. The celebration begins on Saturday at 10:00 a.m.

On Saturday over 100 arts, craft and antique booths will be set up. A fun filled days of activities is planned for the whole family. Popeye and Olive Oyl will arrive on a vintage 1930's Belgian farm truck to mix the world's largest spinach salad. The festival will showcase area trails history emphasizing realistic historic presentations and performances of American Indians, the Civil War, mountain men, immigrant trails, the Santa Fe Trail, and prairie agriculture. Numerous activities for all including, petting zoo, games, quilt show, antique tractor display, green rock skipping, cane pole fishing, paddle boats and more. The finale for this day of community fun comes at 5:00 pm with a quilt drawing from the Lenexa Historical Society.

The Lenexa Spinach Festival explodes across Sar-Ko-Par Trails Park each year on the first Saturday after Labor Day.
Spinach Festival
Address :
14907 W 87th St, Sar-Ko-Par Trails Park
Lenexa
KS
Phone :
913-541-0209
(Always call and confirm events.)
Web Address :
http://www.lenexa.com
Admission Fee :
$1.00 admission.
Festivals
Attractions and Upcoming Events
Things to do near Lenexa, KS