category : Historic Schoolhouses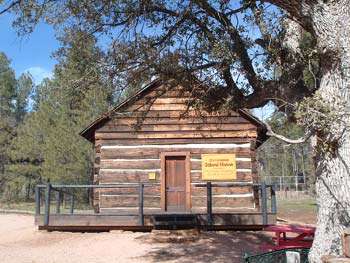 This log cabin was put up in a single day by a community log-raising party in the autumn of 1885. It opened as a school and social center in early 1866. The interior was nicely finished with wallpaper and wainscoting, and was well supplied with manufactured desks and blackboards. In 1907, the school was forced to close for lack of students. It was abandoned and left to deteriorate. In 1967, the roofless structure was saved from demolition, and Arizona's oldest schoolhouse was restored as a community project.
- Northern Gila County Historical Society
Dedicated as a Historical Monument in 1981, the school today displays many pieces that were used throughout the school's history.
Hours:
Open mid-May to mid-October, Saturdays from 10 a.m. - 4 p.m., and Sundays from 1 - 4 p.m.
June 15 - August 6, also open on Fridays and Mondays.
Address:
Located on Fossil Creek Road, 1-3/4 mile west of Highway 87
Phone:
928-476-3547
Our Email:
pinestrawhs@yahoo.com
Our Website:
www.pinestrawhs.org
Come visit us in Strawberry, Arizona
Travel Advertising