category : Fishing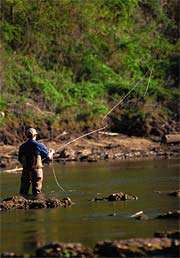 South Holston is a beautiful, 7,580-acre TVA reservoir located in upper East Tennessee at the foot of the Appalachian Mountains. Although 1,244-acres of the reservoir are located in Virginia, there is no reciprocal agreement with that state's wildlife agency. Anglers must have a Virginia license to fish upstream of the Washington County Park.
The reservoir has relatively low productivity and water clarity is normally greater than in other Tennessee reservoirs. The 168-miles of shoreline are only partially developed and much of the reservoir is bordered by the Cherokee National Forest. This abundance of public land makes South Holston a haven for campers and bank anglers. Winter draw-downs are severe and water levels can fall 40-feet below summer pool.
Quality smallmouth and largemouth bass fisheries are present. Walleye, rainbow trout, black crappie, and catfish are other popular game fish. Gizzard shad, threadfin shad, alwife, bluegill, and various minnows make up the forage base.
There are ten public boat ramps and six private boat docks.
BLACK BASS:
Although South Holston is not highly fertile and cannot support huge numbers of fish, a good percentage of the largemouth and smallmouth bass present are of quality-size. The bass populations are also consistently well balanced and in good condition.
The daily creel limit is five largemouth and/or smallmouth bass in any combination. There is no length limit for largemouth, but beginning March 1, 2008 there will be a 16-inch minimum length limit on smallmouth. The smallmouth limit will increase to 18-inches in 2009.
Spotted (Kentucky) bass have yet to be found in the reservoir. This species rarely reaches quality size in Tennessee reservoirs and they compete with the more quality size smallmouth bass for habitat and food. They are becoming abundant in Watauga and anglers should be careful not to inadvertently transfer any to South Holston.
CRAPPIE:
Crappie fishing has improved, due in part to the creel limit set in the mid-90s which has allowed the crappie population to thrive. Black crappie are more abundant than whites. The daily creel limit is 15-fish with a minimum length limit of 10-inches.
RAINBOW and BROWN TROUT:
* Rainbow trout stocking: 2006 - 42,308; 2005 - 31,712; 2004 - 40,210; 2003 - 68,915, 2002 - 32,289; 2001 - 56,999
* Brown trout stocking: 2005 - 20,012; 2003 - 19,380; 2001 - 20,248
South Holston's water is cool enough and has adequate dissolved oxygen throughout much of the year to support trout. Dissolved oxygen can sometimes fall below optimum levels during the summer, limiting the success of the fishery. Many trout are harvested by anglers and the TWRA annually stocks rainbow and brown trout.
There is no size limit for trout, but there is a daily creel limit of seven. The season is closed from December 1 through the last day of February.
WALLEYE:
* Walleye stocking: 2007 - 209,862; 2006 - 206,840; 2005 - 41,199; 2004 - 46,725; 2002 - 51,411
South Holston is well suited for a successful walleye fishery and they have been stocked by the TWRA since 1986. The Virginia Fish and Game Commission also regularly stocks walleye. The daily creel limit is five, 18-inch or longer walleye.
WHITE BASS:
White bass are a schooling fish that can provide some hot fishing action. Like walleye, white bass make a spawning run up the South Fork of the Holston River. A short-lived species, white bass populations can fluctuate greatly. The creel limit is 15-fish per day with no size restriction.
FISHING TIPS:
Largemouth bass
- Spring: Spinner baits, buzz baits, lizards, 4-6 inch worms and Flukes, small Shad Raps, Bandit crankbaits and stick baits. The flooded willows in the creeks and in the backs of coves can be very productive. Summer: Good night fishing with worms and lizards.
Smallmouth bass - Spring: Fish clay and broken-shale banks with spinner baits, lizards, worms, live bait, small crankbaits, float-n-fly, and suspended flukes. Secondary points are prime smallmouth holding spots. Summer: Smallmouth move to deeper water and this is a good time for night fishing with various worm rigs and pig-n-jig.

Crappie - February through November: Any kind of structure is productive. Use small flies tipped with minnows, small crankbaits, grubs, and spinners are recommended. Jacobs Creek would be a good place to start any crappie fishing trip.

Walleye - Spring: Fish at night with Long Bill Rebels, Rapalas and Doll Flies. Flooded tree tops and black willows hold many walleye. Since both lake and river spawning fish have been stocked, some walleye make a spawning run to the headwaters of the reservoir . Good fishing takes place as far upstream as Alvarado. Standard river walleye fishing tactics (grubs, flies and minnows) should work.

Channel catfish - Summer: Limb lines and jug-fishing with shad or bluegill work well.

Trout - Spring: Bank fishing with corn or salmon eggs is productive. Summer: Troll spoons at 30- to 50-feet.

White bass - January through April: White bass make a spring spawning run to the headwaters of the reservoir. White spinners (Roostertails), grubs, and small flies are all effective. Summer: Good white bass fishing can be found on the lower end of the reservoir with the same tackle.

Address: I-81 to Exit 69, R to 37 S. 4 mi to 11E & 394/390. Con't. 7.5 mi to 394/11E to 421 S 2 mi to TVA Rd
Phone: 423-239-2000

Come visit us in , Tennessee