category : Museums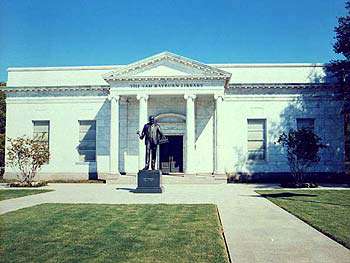 The Sam Rayburn Library and Museum is the creation of "Mr. Sam", as he was affectionately known to his friends and colleagues. Rayburn established the library and museum in 1957 as a tribute to the people of his cherished Fannin County, Texas.
The elegant structure of white Georgia marble contains the exact duplicate of Speaker Rayburn's U.S. Capitol office, from the pattern on the tile floor to the barrel-vaulted ceiling. Over the desk is the crystal chandelier, more than a century old, which hung in both the White House and Capitol. Other mementos include many gavels used on historic occasions, and a 2,500-year-old Grecian urn given by the Athens Palace Guard in appreciation for American economic aid.
The Sam Rayburn Library and Museum also houses Rayburn's personal library and an extensive collection of books that relate to his career or to the people, issues, and events with which he dealt during his years of public service. Rayburn's personal library makes up the bulk of the extensive book collection. Although a number of the books are rare or scarce, most are well-thumbed works about American government and history that Rayburn used during his career in Congress. The collection also contains a set of the Congressional Record as well as a number of books personally inscribed to Rayburn by admirers such as Franklin D. Roosevelt, Harry S Truman, and Dwight D. Eisenhower. A card file index provides access to the holdings in this library. The Library also contains on microfilm Rayburn's official papers and a microfilm reader. Speaker Rayburn's original papers are part of the Center's Congressional History Collection and are available in the Center's Research and Collections Division located in Sid Richardson Hall Unit 2 on the main campus of University of Texas at Austin. Papers of many of Rayburn's congressional colleagues, such as John Nance Garner, James Buchanan, Maury Maverick, Sr., Lloyd Bentsen, Jr., Frank Ikard, and Ralph Yarborough, are also available for use in the Center's Research and Collections Division. Also in Austin, adjacent to Sid Richardson Hall, is the Lyndon B. Johnson Library and Museum, where additional material related to Rayburn's political career may be found.
The Sam Rayburn Library and Museum is operated as a unit of the University of Texas at Austin Center for American History.

Admission: Free
Hours: Mon. - Fri. 9 a.m. - 4:30 p.m.; Sat. 10 a.m. - 2 p.m.; Closed Sunday
Address: On 4.3-acre tract along U.S. 56 four blocks west of downtown.
Phone: 903-583-2455
Our Website:www.cah.utexas.edu/museums/rayburn.php

Come visit us in Bonham, Texas