category : Museums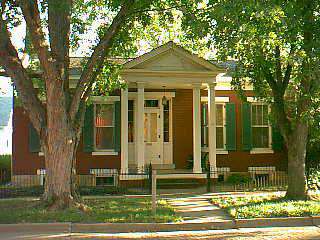 The Taylor - Wessel - Bickel House is one of the oldest homes in the state and the finest example of Greek Revival Architecture. In the late 1850s, William Taylor, an attorney, politician, and financier, built this two-room brick home. A few years later, merchant, Lewis Wessel, enlarged the home, adding the Greek Revival front that sets the home apart from others. In 1978, Karl and Wealtha Nelson restored the home, focusing on the authenticity of the building.

The home not only serves as a museum, but it also serves as the society quarters for the Nebraska City Historical Society. The rooms are filled with period furnishings and artifacts from the home's era. It is home to interpretive materials, art, and photos. Inside, three fireplaces, the stone masonry, high ceilings, drapery, and floor coverings are reminiscent of the period.

Admission: $2 for adults and $1 for children.
Group and individual tours available by appointment.
Phone: (402) 873-9360
(402) 873-3508
Come visit us in Nebraska City, Nebraska
Genealogy & history research library, log house & barn, school, church & caboose, memorial gateway, county records books on i...