category : Historic Buildings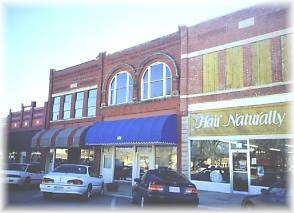 J.A.. Pancoast, a lawyer, erected this building in approximately 1905 to house the Knox-Stout Clothing Store. The city administration operated on the second floor for many years. The Pioneer Telephone Company, which merged with the Southwestern Bell Telephone Company, was founded in this building. The Victorian style of this building is identical to one in Guthrie attributed to the famed architect, Joseph Foucart.
Address:
614 Cedar Street, south side of the courthouse square.
Come visit us in Perry, Oklahoma
Travel Advertising