category : Race Tracks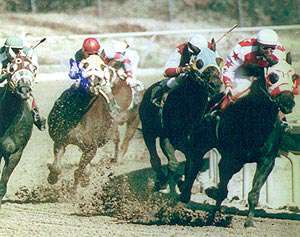 The Woodlands, a dual-track racing complex, features world-class greyhound racing year-round, and thoroughbred and quarter horse racing summer and fall - Simulcast racing year round. The Woodlands offers dining in the Kennel Club at the greyhound facility, and at the Turf Club when the horses are running. Fabulous Sunday brunch buffet, prime rib every Thurs. evening and other daily specials. RV parking available.
Admission:
FREE admission, $2 Cover Charge Kennel Club
Hours:
Starting at 11:00
Address:
9700 Leavenworth Road
Phone:
913-299-9797
Our Website:
www.woodlandskc.com
Live post times: 3 p.m. Wed., 7 p.m. Thur., 5 p.m. Fri., 1 p.m. & 7 p.m. Sat., 1 p.m. Sun. 2001 Horse racing Oct. 3-Nov. 4, 12:30 post time Wed.-Sun.
Come visit us in Kansas City, Kansas
Travel Advertising