category : Architecture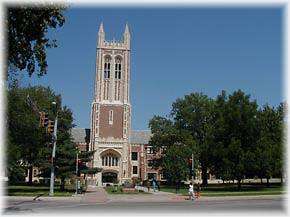 Designed by Topeka architect Thomas W. Williamson, Topeka High School was completed in 1931 at a cost of over one million dollars. Today, it is one of the city's most distinguished landmarks. The mast spar from "Old Ironsides" can be seen on the east lawn of the school.
Address:
800 W. 10th
Guided tours are available by contacting the Topeka Convention and Visitors Bureau at (785) 234-1030 or 1-800-235-1030.
Come visit us in Topeka, Kansas
Travel Advertising