category : Memorials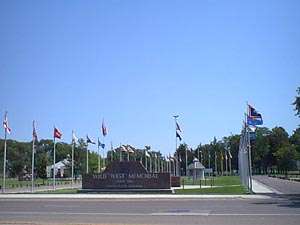 At the entrance of Cody Park, visitors will find the Wild West Memorial. This is near the site of the historic Old Glory Blowout, the first spectator rodeo held in 1882 staged by Buffalo Bill. The Wild West Memorial has been created as a tribute to the father of rodeo - Buffalo Bill Cody.
The focus of the Wild West Memorial is the life-size bronze statue of Buffalo Bill enclosed in a gazebo. Surrounding the gazebo are forty-eight U.S. state flags, each flown from individual flag poles. Each flag represents the U.S. states visited by Cody with his Wild West Show.
The bronze statue was created by British artist Bryan Mickleburgh and given to North Platte on behalf of the people of England. The statue was placed in Cody Park and dedication ceremonies were held in June 1998.
Admission:
Free
Hours:
All Day, Every Day
Address:
1400 North Jeffers
Phone:
308-532-4729
Our Email:
info@visitnorthplatte.com
Our Website:
www.VisitNorthPlatte.com
Come visit us in North Platte, Nebraska
Travel Advertising