Please help promote McPherson County Travel :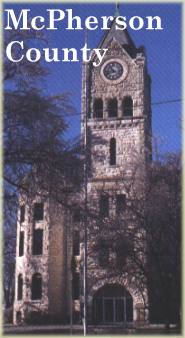 Most of the early settlers of
McPherson County
came from the east lured by the promise of free land. The Santa Fe Trail which crosses the county just south of McPherson is a current reminder of the early heritage of the county. Marked with monuments where it crosses the county's highways, the variations the trail left on the terrain are still visible from aerial photos.

McPherson County offers a rich diversity of historic, cultural, and natural attractions. It was settled primarily by Swedish, German, Swiss, and Volga German immigrants whose heritage is very alive across the county. Enjoy historical celebrations in full native costumes each summer and fall in Lindsborg, "Little Sweden, U.S.A." and the Scottish Highland Games at McPherson. Native prairie can still be found in this area, some of which overlooks the Smoky Valley. The county also includes some of the finest cultural attractions in the area.