Please help promote Arcadia Lake, Oklahoma :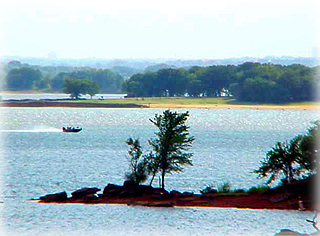 Arcadia Lake, located on the Deep Fork River, offers water-oriented recreation opportunities in an urban setting with 1,820 surface acres and 26 miles of shoreline. Lands around the lake have been developed to provide facilities of picnicking, camping, swimming, fishing, water skiing, boating and hiking. Recreation facilities at this lake are provided by the City of Edmond, Oklahoma.

Arcadia Lake, like Edmond, rests in a part of Oklahoma called the Cross Timbers. It is a unique environment where grasslands intersect with a forest on a bed of red soil. The range of many animals come together in this area giving the Cross Timbers a variety of wildlife unseen in other parts of the country. This is a place where North meets South and East meets West - the Crossroads of America! The Educational Programs at Arcadia Lake focus on the diversity of plant and animal life in the Cross Timbers.
Fees: Park Permit Required
Location: 1.5 miles SW of Arcadia
Contact: 405-396-8026
Arcadia Lake OK Related Videos