About San Carlos Lake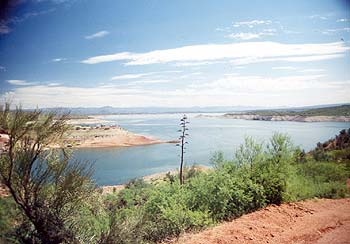 San Carlos Lake was formed by the construction of Coolidge Dam and is rimmed by 158 miles of shoreline and stores. The 920 foot long dam was built on the Gila River to irrigate about 100,000 acres, half of which are Native American lands in the San Carlos Apache Reservation. The Reservoir, formed behind the dam, lies above old tribal burial grounds and the former camp of Geronimo.
It took half a century for the lake to fill the Reservoir and water levels range from fairly high to near empty driven by downstream irrigation needs, water levels have dropped low enough to cause fish kills and risen high enough to set new high-water marks. The lake has been drawn to the dead-pool level nearly 20 times. It has been full - the largest body of water in Arizona, with 158 miles of shoreline and 19,500 acre-feet of water � on just three occasions.
The 25-mile-long lake is relatively shallow with few drop offs. The main lake has a maximum depth of some 75 feet at the dam.
Before the dam was built, mesquite and palo verde trees covered what is now the lake bottom which reportedly creates more productive fishing-per-acre than any other southeast Arizona lake.
Note: Call ahead during low water conditions.