category : Trails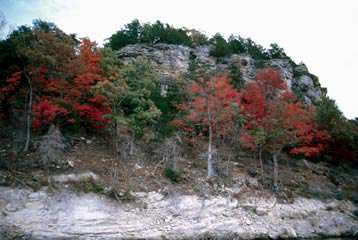 The landscape is a mix of trees and natural grasslands that is very characteristic of Missouri's western Ozarks. Dry and very open oak woodlands cover much of the park with bands of rocky prairies intermingled on slopes facing to the south and west. In this, Harry S Truman State Park is a prime example of what the western Ozarks looked like when the first European settlers came on the scene. Abundant wildflowers, including aromatic aster, wild indigo, mountain mint, ashy sunflower and sensitive briar, are nestled among the eastern red cedar, dwarf hackberry and blackjack oak trees. Native grasses such as big bluestem and Indian grass carpet the landscape.
On a walk along the
Western Wallflower Glade Trail
, one of two trails in the park, hiking enthusiasts experience firsthand the glade and savanna habitat that is being preserved in its pre-settlement conditions. It is one of the best places in the park to view widely spaced oaks that still shade a mantle of prairie grasses and wildflowers. The brilliant orange beauty known as the western wallflower, a member of the mustard family, can be found on the glades in the park. This flower and other species, such as stick leaf, Missouri spurge and plains muhly grass, do not exist in other Missouri state parks and are uncommon in the state.
The
Bluff Ridge Trail
traverses forests and glades and passes near a bluff that overlooks Truman Lake. The north-facing slope on the first part of the trail, with its richer, moister soil, contains many large red oaks with a smaller understory of sugar maples. A highlight along the trail is one of the park's many bluff outcroppings. These limestone bluffs provide a home to many unusual plants including the widow's cross.
An alert visitor can observe close-up the abundant wildlife in this semi-isolated peninsular setting. The park is home to foxes, coyote, beaver and pileated woodpeckers. It is not uncommon to see white-tailed deer and wild turkeys feeding near the campground.
Admission:
Park Permit Required
Hours:
Year Round
Address:
1.5 miles NW of Warsaw off Hwy 83
Phone:
660-438-7317
Our Email:
Harry.S.Truman@Nwk02.usace.army.mil
Come visit us in Truman Lake, Missouri