Oliver SRA Camp Areas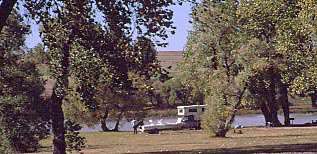 Nearly all of the established recreation facilities are located on the north shore of the lake and are accessible from U.S. 30 via three entrances. Facilities include a campground, two boat ramps and eight docks, swimming beach, change houses, drinking water, vault toilets, picnic tables, shelters, grills, lighting and parking lots. Landscaping and tree plantings add beauty and shade to the area.
The south side of the lake is maintained in a primitive state for hiking, fishing and hunting.
OLIVER RESERVOIR offers the following
campsites
:
75 RV camping pads without electricity
100 non-pad sites without electricity
Drinking water is available.
Picnicking
facilities at OLIVER RESERVOIR include:
Picnic tables: 130
Charcoal cooking grills: 142
Picnic shelters: 2
Picnic shelter(s) with electricity: 2